Grand Teton National Park: everything you need to know to prepare your visit

Written by Sandrine
Published on 12/10/17
Located on the western edge of Wyoming, just below the famous Yellowstone Park, Grand Teton National Park is a magical setting of snow-covered peaks surrounded by emerald lakes.
In this article we will give you all the information you need to plan and prepare your visit to Grand Teton National Park. To learn more about activities and hiking in the park, we invite you to read our second dedicated article: What to see, what to do in Grand Teton national park.
1

How to go to Grand Teton National Park

Grand Teton National Park is located in the U. S. Rocky Mountains, with the nearest big city, Idaho Falls, about 150 km away. You will deduce from this that the access to the park is not the most easy, necessarily requiring you to stay either in the park or in one of the small mountain villages nearby.
It is ideal to combine the visit of Grand Teton with Yellowstone.
If you want to combine the discovery of Grand Teton with Yellowstone, the smartest choice will be to cross both parks, for example by reaching Grand Teton from the south, then to continue to Yellowstone and back by exiting West Yellowstone to Idaho Falls, making a long loop. This route is ideal because Highway 20 is a good place to get to Idaho Falls. The turn can also be performed in the opposite direction. Count without the big 8 of Yellowstone about 500 km in total.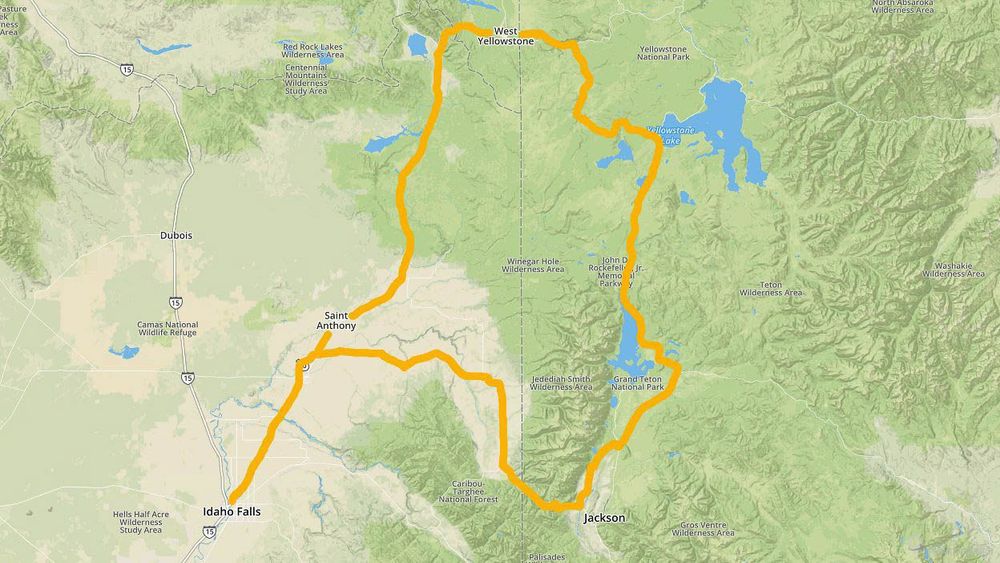 Drive from Utah via Salt Lake City
If you are planning to visit Grand Teton during a grand tour of the American West, you can drive through Salt Lake City by car. Nevertheless, the journey will be long and will require a good driving day depending on your starting point.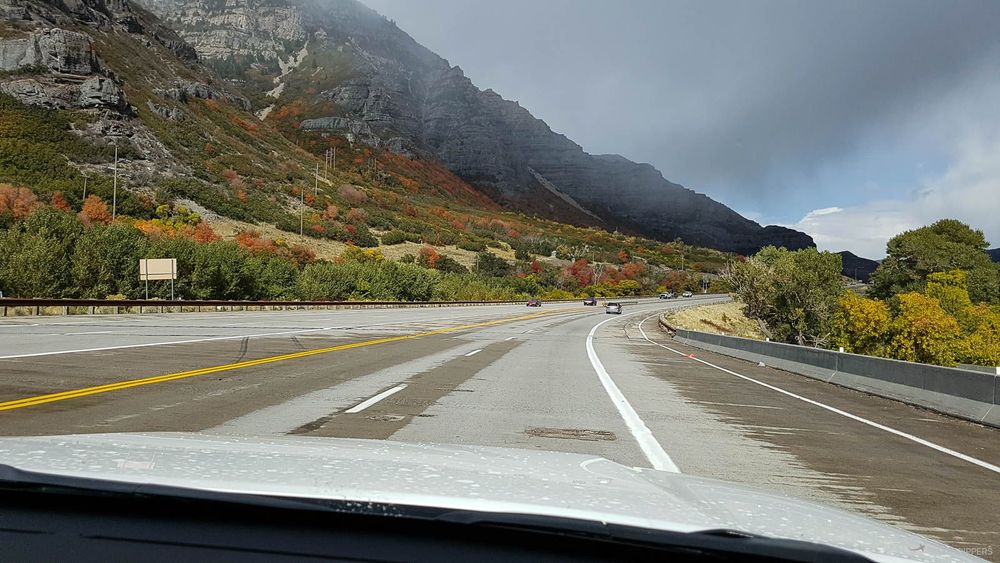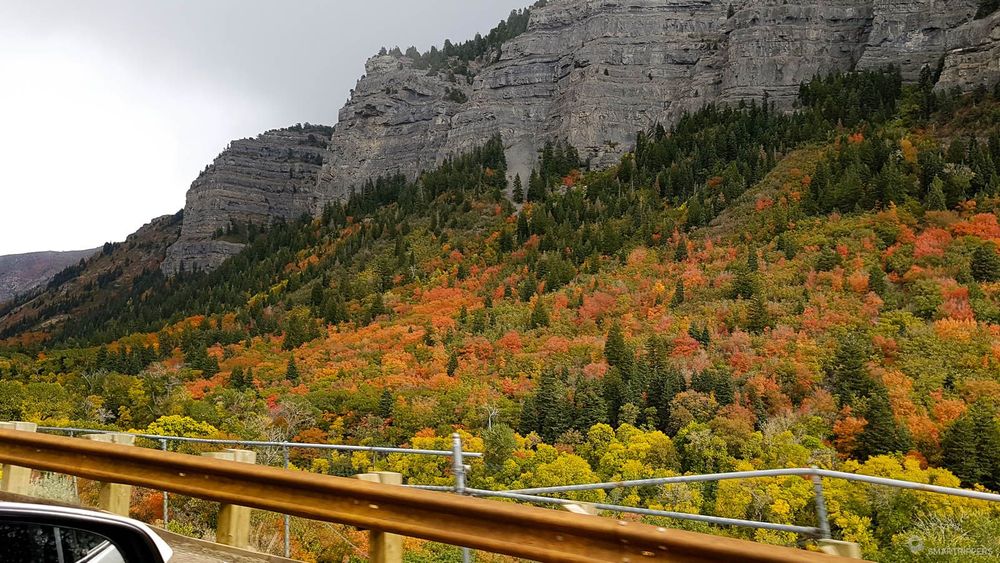 In this case, you will have the option of taking Highway 89 from Logan or I-15 (Intersate 15) to Idaho Falls and continuing on Highway 26. For testing both, we recommend that you opt for the second solution, which is a little less direct but much faster (highway to Idaho Falls). Indeed, Highway 89 is rather long and monotonous and apart from a few charming stretches, we found that the road did not offer very interesting scenery. So you'll be able to get to Jackson directly on the I-15 faster.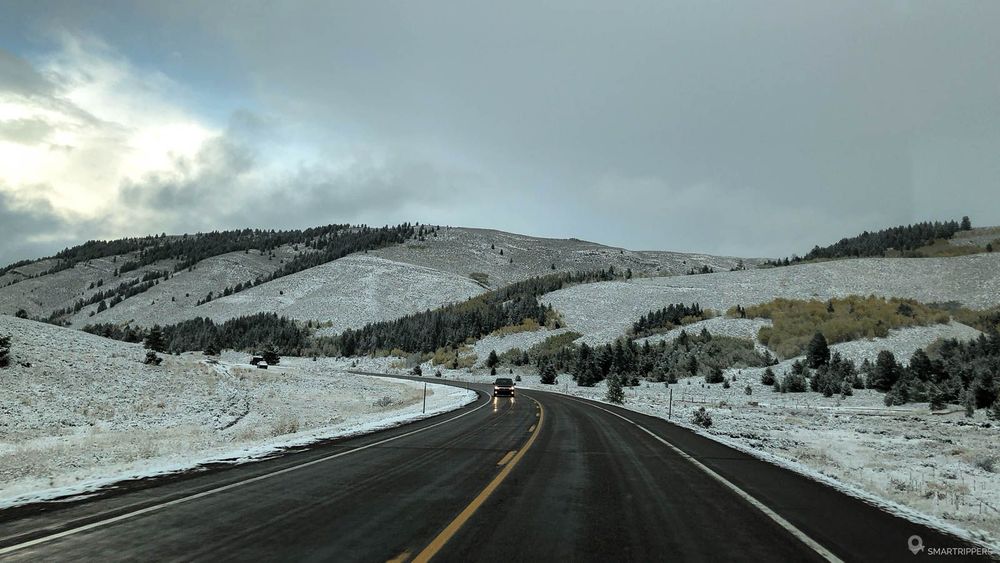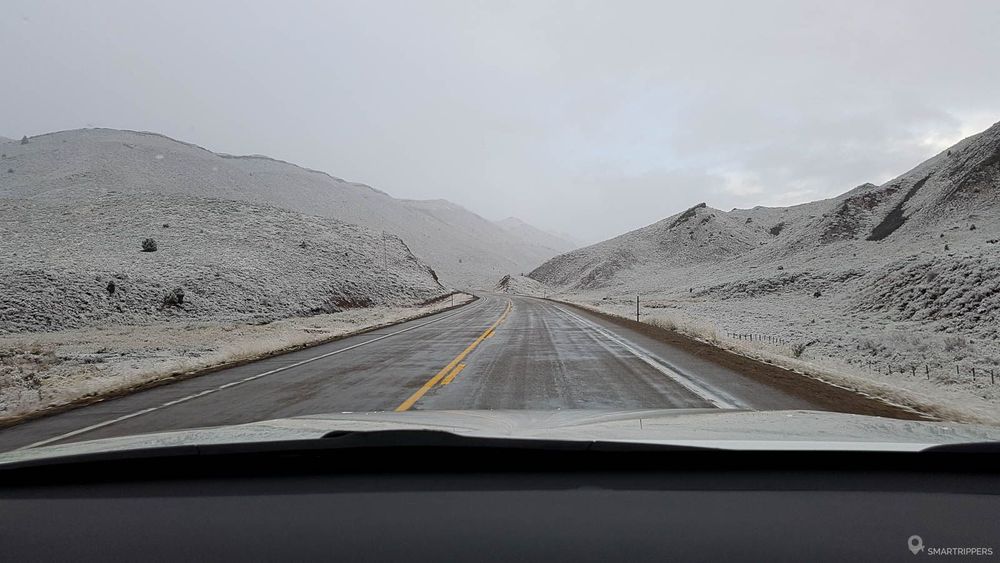 On the other hand, if you are in no hurry and prefer "secondary" roads, Highway 89 is a good compromise.
Coming by plane
If you prefer to shorten your travel time by airplane, be aware that the smaller airports closest to the park are not frequently served and fares are often unattractive. If your wallet doesn't allow it, the best compromise is still to target a city a little further away, but bigger, to be able to take a regular and cheaper flight. On the other hand, it will require renting a car when you arrive and a few hours of driving to the park.
From the south, Idaho Falls is a good option (count 1h45 to Yellowstone or Grand Teton) or Billings, Montana for a 2h30 drive north from Yellowstone.
2

When to come to Grand Teton ?

Grand Teton National Park is open all year round, 24 hours a day, but its geographical location makes it vulnerable to winter weather conditions. Indeed, the park is situated on a high plateau at an altitude of around 2000 meters, where the climate can quickly become harsh outside the summer. From early fall to late spring, snow regularly invades the park and closes roads and hiking trails.

From October to May, expect negative temperatures. In the middle of winter, the thermometer can drop to -20 degrees Celsius. If you decide to come during this period, plan for good warm clothes and organize your transportation in advance, especially from November to April. From June to September, temperatures rise and so do traffic. The months of June, July and August are the most frequented months.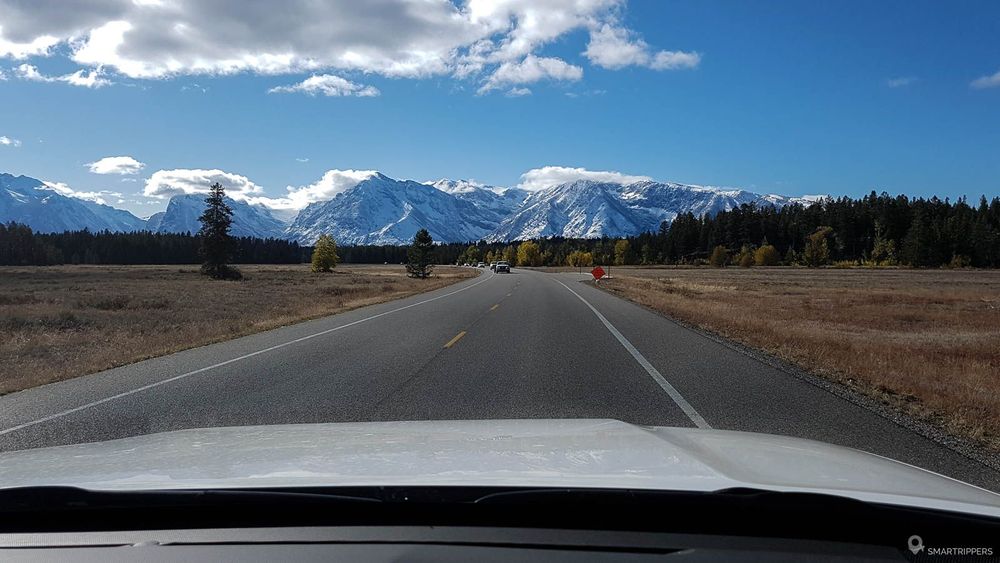 If you are looking for peace and quiet, we recommend that you come to Grand Teton in May or from mid-September to the end of October. If you are looking for the best weather conditions, June to mid-September will be the best months. Fall colors are also beautiful at Grand Teton because the trees are yellow in colour. To admire them you have to come and discover the park from the end of September to about mid-October.
Closures during winter
From the beginning of November to the end of April, almost all secondary roads in the park are closed to motorized vehicles. Bicycles are only allowed if the road is clear.
From December to late March, some areas of the park are closed to the public to protect local wildlife. Most of the affected areas are in the vicinity of the Snake River and shown in yellow on this map. Finally, it will no longer be possible to reach Yellowstone Park without a snowmobile (tires are prohibited).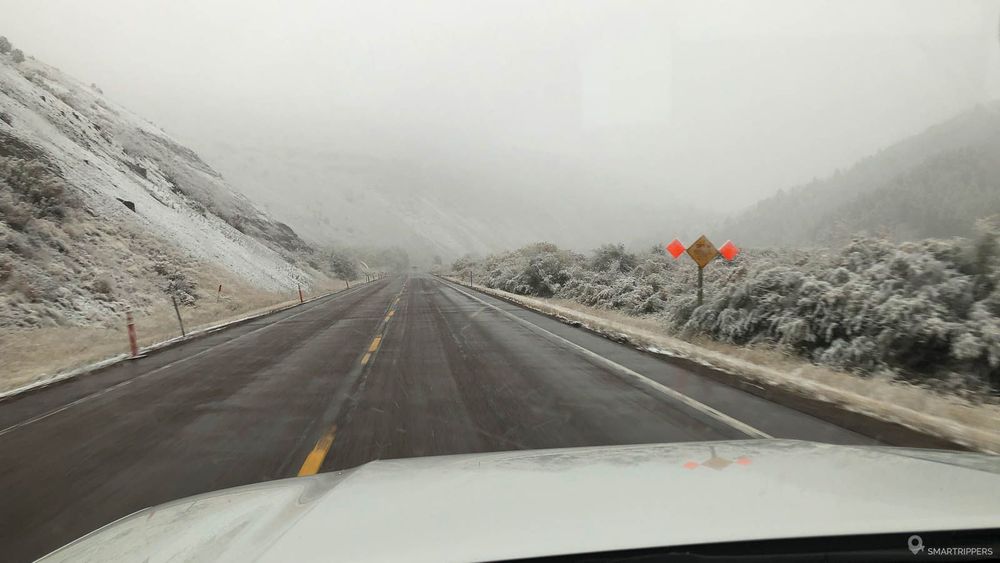 It should be noted that snow can be invited in the park from mid-September to mid-May. Except in extreme conditions, all roads in the park remain open until October 30 to reopen on April 01, except for the main highway, Highway 89, which is normally open all year round. However, if there are too many snowfalls, a 4x4 or chain driven vehicle may be necessary. When you come here, be sure to check traffic conditions and open roads.
3

How long stay at Grand Teton ?

The duration of a visit to Grand Teton depends on the activities you plan. The park is not very large and crosses by car in 1 hour.

If you simply want to discover the Teton chain, admire the different viewpoints on the lakes and take a short walk, a big day will be enough.If you love nature and want to hike, 2 days are necessary to enjoy it, and even more for those who like to hike. The hikes are numerous and have variable durations which will allow you to consider a program according to your rhythm.If you want to observe wildlife, we recommend that you be present at dawn and dusk to maximize your chances of observing the animals. We therefore advise you to stay at least one night in the park or nearby surroundings.
4

Grand Teton : How much does it cost ?
Entrance to the park
The price of admission to Grand Teton is $30 per car (up to 5 occupants) and allows access to the park for 7 consecutive days. If you come by motorcycle, it will cost $25, and $15 if you are on foot or by bike. You can also choose to buy a combined Grand Teton " Yellowstone pass (always valid for 7 days) for $50 for a vehicle, $40 for a motorcycle and $20 on foot or by bike.
If you are going to visit other national parks during your stay, we strongly advise you to buy the annual "America the beautiful" pass when visiting your first park (directly at the ticket office). Its price of $80 will be amortized very quickly. This nominative pass is valid for 1 year and allows a vehicle to enter the park. For more information on the pass, you can read this article: The indispensable America the beautiful pass.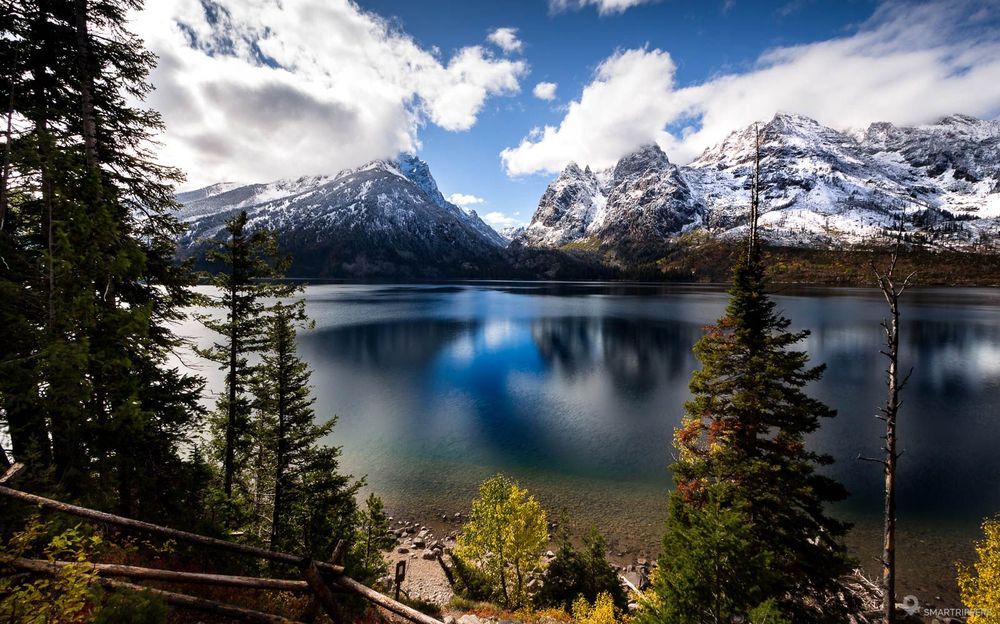 Food and fuel
We were pleasantly surprised to find affordable gasoline at the park's small service stations. By October 2017, the gallon was about $2.80 per gallon (when prices were higher in the nearby Yellowstone Park).
For food, there are a few small shops in the park but the choice is very limited, namely only basic necessities. Prices will also be much higher. We therefore recommend that you shop outside the park, ideally in major cities or Jackson.
Accommodations
The price of campsites in the park varies between $28 and $40 for a basic site. It is also possible to sleep in a gite of hikers for 27$ per bed (per person). For more comfort, you will have to spend between $150 and $400 for a room in one of the park's hotels or lodges. To decrease the bill, you will have to move away from the park.
We give you more details about the different types of accommodation just below.
5

Where to sleep in Grand Teton ?
Inside the park
If you want to sleep in the park and be as close to wildlife as possible, you can opt for one of the hotels, small cabins or campsites that are located between Colter Bay Village, Jackson Lake Lodge, Signal Mountain Lodge, Jenny Lake Lodge and Moose Junction.
If you choose one of the park's establishments, remember to book very early, especially during the summer because accommodation is taken by storm. For campsites, this is the first come, first served rule. We therefore advise you to arrive early in the morning to make sure that you have a pitch during the busiest months.
Not all campsites are equipped in the same way. There are "primitive" campsites with only dry toilets and an individual pitch with a tent space, bear-proof box, fire place and picnic table. Other campsites are more comfortable with running water, hot showers and electricity. The prices of campsites vary according to their facilities. Please note that if you have an RV (American camper van), you will only need to use an RV space.
From the beginning of September to the beginning of June, most campsites and campsites close. The choice of accommodation in the park is therefore more limited. To check the opening dates of the establishments, you can consult the list of hotels and campsites in the park.
Bivouac in the park
If you wish to bivouac for several days, you will need to obtain a "backcountry camping" permit. This permit will allow you to freely pitch your tent in one of the authorized "camping zones", in the immediate vicinity of the hiking trails. Only a limited number of permits are issued for each day.
It is therefore highly recommended that you book your licence in advance on Recreation.gov, whose online reservation period runs from the first Wednesday of January to 15 May. One third of the permits are accessible via online booking. It will cost you $45 reservation fee for a group of up to 6 people. You must pick up your permit before 10:00 a. m. on the morning of your departure at Craig Thomas Discovery (Moose) or Colter Bay Visitor Centers or Jenny Lake Ranger Station.
If you have not been able to book your permit online, you can try your luck to obtain one of the remaining two-thirds of the permits by showing up the day before your trip at one of the 3 Visitor Centers mentioned above. Permits are distributed on a first-come, first-served basis. In this case, the permit will be charged $35 per group (up to 6 people). But be careful, these permits are very coveted during the summer.
For more information on the wild bivouac, we recommend that you consult the official park brochure.
If you choose this option, be sure to have a bear-proof box or use one that is available in some areas of the park.
Outside the park
To lighten your wallet, or if the campsite is not your cup of tea, we recommend that you stay outside the park. The nearest villages are located at the south entrance. The ski resort of Teton village, ideally located just a short distance from the park, offers affordable accommodation during the low season ($65 early October 2017 for a small double room in a youth hostel, last minute reservation).
A little further south, only a few kilometres away, is the small town of Jakson Hole, which also has small shops, petrol stations and even a small airport.
In any case, remember to book your accommodation as soon as you know the dates of your stay, because even in low season the prices can quickly fly away, the region being very coveted.
Continuing south and west from Jackson, other small villages also offer accommodation with correct price, but a little more travel is needed.
6

Useful information
Maps of the park
Here is the link to the park's PDF maps: summer map (May to October), winter map (November to April).
Once on the spot, the card will be distributed to you by a ranger at the entrance of the park, as is customary in the National Park. However, if you arrive outside of the rangers' presence schedule, consider printing your card ahead of time or downloading the park's mobile application, which I'm talking about just below.
The mobile application
The mobile application
Grand Teton National Park has made available a free mobile application, which is very convenient and can be consulted offline if you think about downloading data in advance (network coverage is not the craziest). You will find all the practical information, but also points of interest. To download it, search for "NPS Grand Teton National Park" in the store.
All I have to do is wish you an excellent trip and a great discovery of Grand Teton National Park!
We are Sandrine and Flo, French thirty-somethings. In 2019 we quit everything to live our dream, become nomads and travel around the world. We left with our baby, Lena, who was only 5 months old at the time. After a first trip around the Pacific Ocean by plane and a long 3 months stay in Hawaii, we left to discover Iceland for 3 months on board our 4WD pickup truck and truck camper. Then we continued our adventure in North America.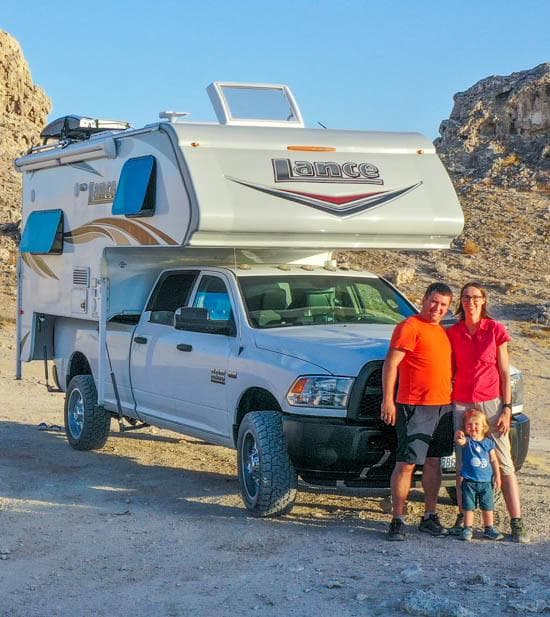 Today, if we can continue this adventure, it is above all thanks to our blog, Smartrippers! We created it one day in 2016, with the desire to share our good travel tips, without thinking that it would lead us there! We have developed it a lot over the years and have become experts on our 3 favorite destinations: Hawaii, Iceland and the American West. We now guide you to these destinations to help you plan the trip of your dreams!
Follow our adventures!