How much does a trip to Hawaii cost? Price and estimated budget

Written by Sandrine
Updated on 10/30/22
Hawaii is a dream destination! There is a good chance that you will fall in love with the islands of Hawaii at first sight, but you should warn yourself now: Hawaii is an expensive destination, or even very expensive if you want to enjoy local activities or stay in one of the beautiful resorts along the ocean.
To succumb to the charms of Hawaii you will have to spend money. We suggest to detail in this article the different types of expenses to be expected with our tips to reduce the price.
1

How much is a plane ticket to Hawaii?

Contrary to what one might think, your flight ticket to Hawaii will not be your highest expense item. By anticipating and scrutinizing promotions, you can find a ticket at a very attractive price
From Europe
On average, prices for a flight to Hawaii from Europe are in the 900€ range. This can go up to 1200€ or more during traditional summer school holidays and Christmas. However, it is not uncommon for airlines to make promotions to Hawaii during the mid and low seasons. Thus by scanning the prices, it is possible to find flights in the 750€ from Europe with prices which can go down until 400€.
In addition, it is also possible to reduce the bill by combining two flights, the first to a city on the west coast of the United States or Canada (Los Angeles, San Francisco, Oakland, San Jose, Seattle, Vancouver...), then a second to Hawaii. Thus, expect fares around 600$/700€ round trip almost all year round, or even around 500€ in off-peak periods.
Be careful, in the case of tickets purchased separately, connections between flights are no longer guaranteed, which requires you to have enough time to make your stopover, or even to spend a night near the airport.
From North America
Several low cost airlines operate flights from the mainland to Hawaii. Thus, it is possible to find affordable fares on a regular basis, especially since the arrival of Southwest on the Hawaiian market. Prices start at $270 round trip from some West Coast cities and $500 from the East Coast, except for Toronto which has very attractive prices to Hawaii. Sometimes, some special deals allow you to get tickets starting at $200 for the West Coast and $400 for the East Coast.
From Canada, promotions at $500 roundtrip happen a few times a year from Montreal. From Vancouver, prices sometimes decrease to 300$.
As an example, we paid $400/person for a multi-destination trip : Seattle - Kona (Big Island) - Los Angeles on August 12 to 24, 2022, and purchased only 15 days before with Hawaiian Airlines and United.
2

How much do domestic flights in Hawaii cost?

Here is another expense to consider when travelling to Hawaii: domestic flights. It is very likely that you will have to move from island to island. You will therefore have to add the cost of domestic flights to your budget.

The immediate impact of Southwest's arrival in early March 2019 on the Hawaiian inter-island market was a drop of a few dollars in Hawaiian Airlines' call prices on the islands served by Southwest (Oahu, Maui and Big Island). Now, we can find attractive prices on flights operated by Southwest which include 2 checked luggages, unlike Hawaiian Airlines.

Expect now between $29 and $150 for each domestic flight, knowing that you may have to add the cost of your checked baggage from $15 to $25 if you choose Hawaiian Airlines or Mokulele (free with Southwest).
Our tips to save on domestic flights
If you are planning to visit several islands, consider a multi-destination flight when you come to Hawaii, which will save you an internal flight. Their prices are generally the same as classic round trips.
Prices on domestic flights generally tend to rise rather than fluctuate. For this reason, book your domestic flights as soon as possible.
If you choose to travel with Southwest, the displayed price includes 2 free checked bags.
If you choose to travel with Hawaiian Airlines, you will be able to benefit from a discount on your checked bags if you subscribe to the company's Hawaiian Miles program before check-in.
3

How much does it cost to stay in Hawaii?

Regarding accommodation, expect relatively high prices compared to the rest of the USA and especially since the COVID! The crisis has strongly impacted the Hawaiian islands and the price of accommodation has almost doubled since 2019 (except on Oahu where the price increase has been more reasonable). This increase concerns all types of accommodation, unfortunately you will not escape it, and knowing that real estate prices have followed the same trend with a vertiginous increase, there is little chance that prices will return to their previous level, even if I think that a decrease is still possible in the months/years to come.

The accommodation offer in the islands is very diversified, the prices are in a very wide range depending on the type of accommodation and the comfort you want. The more atypical your accommodation will be, the higher the price will be.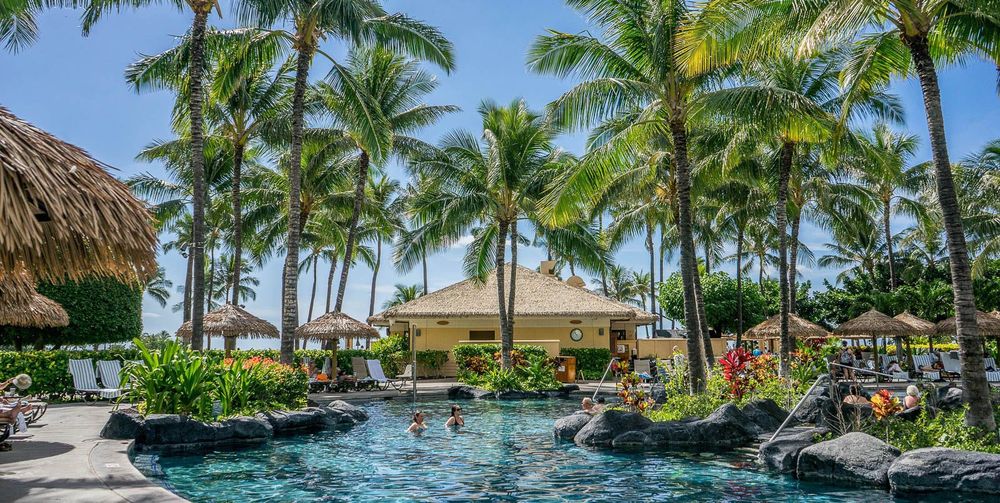 For a stay in a hotel
Hotel prices vary by island. For a classic unpretentious 2-star hotel stay (sometimes without air conditioning or shared bathroom), prices start at around $130 per night on Big Island (around Hilo), followed by Oahu (from $150/night), then Kauai (from $190/night) and climb for Maui where it will be difficult to sleep for less than $250/night without going through another type of accommodation.
Generally speaking, for a night (double room) in a 2 or 3 star hotel, count $160 on Honolulu (where you will probably have to add the parking fees), $270 on Big Island (around Kona), $300 on Kauai and $350 on Maui.
For a luxury honeymoon stay, prices can go through the roof because in Hawaii, luxury is expensive. For 4-star hotels and above, prices start at $350 per night for the cheapest, with an average of around $500 per night, not to mention the taxes to be paid locally. In some very high end establishments, the prices soar above $1000 per night! You have been warned!
Read our tips and our hotels selection
From camping to luxury hotels, find our accommodation recommendations and the best places to stay on each island.
Youth hostels and Airbnb
If you have a small budget or travel alone, you can push the door of youth hostels that are rather welcoming, but whose price remains high, from $100/night for a person. Here are some of the youth hostels in Hawaii.
Airbnb is better, but it is still very expensive (the private owners follow the hotel prices) and you have to add the cleaning fees which are quite high for short stays. The prices are extremely disparate and it is impossible to give a range here. The service charge is about 15%. However, this can be cost-effective for stays of several days (3 days and more).
We can find caravans and vans at more than 200$/day, shared rooms at 80$/night or single accommodations at slightly lower rates than hotels, but we are still in the very expensive range.
In camping
For those on a tight budget, you can opt for camping. It costs about 30$ per site in the State Parks. In order to camp in State Parks or County Parks, you will need to obtain a permit from the County, as each island has its own regulations.
Please note that backcountry camping is strictly prohibited in Hawaii. Be sure to choose your campsites carefully, as not all of them are very popular. Choose campsites far from the cities for more quietness.
Permit applications must be made in advance via forms depending on the area where the campground is located. The system is explained on the official website of each island. There are also private campsites located outside the parks, but there are few of them.
Our tip: Consider renting a condominium
Condos are an excellent alternative to hotels. A condo rental can be very interesting from 3 days and even more if you stay longer or with your family. Below 3 nights, the owners probably won't rent it to you and the cleaning fees will not be advantageous. You will be able to find many rentals on booking sites, such as VRBO, Booking or local rental agencies.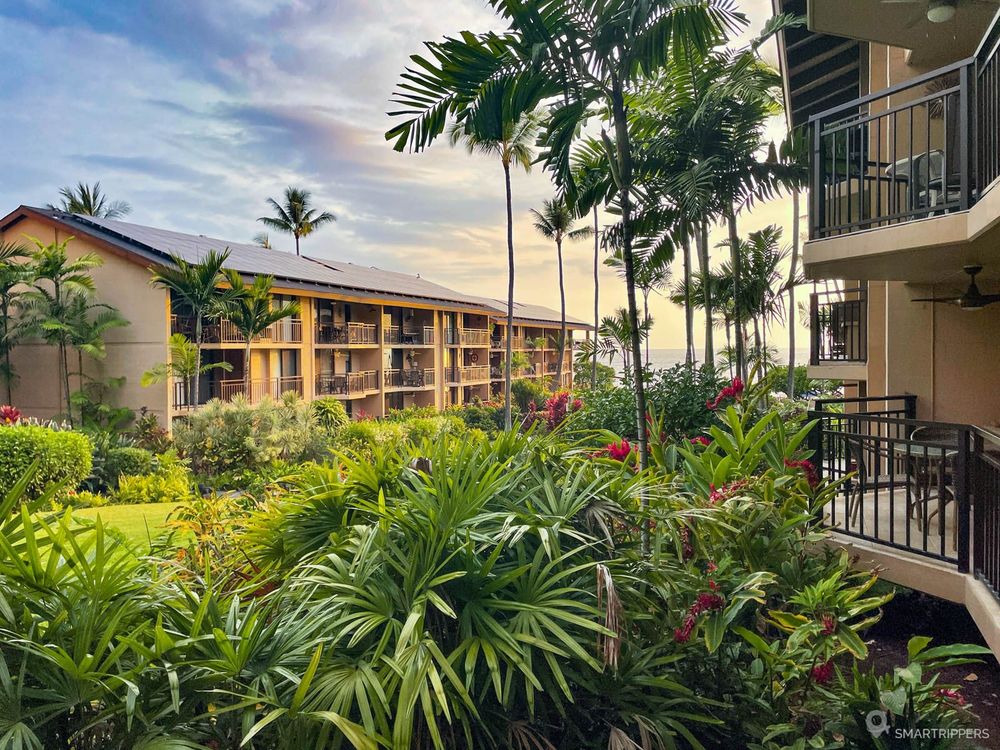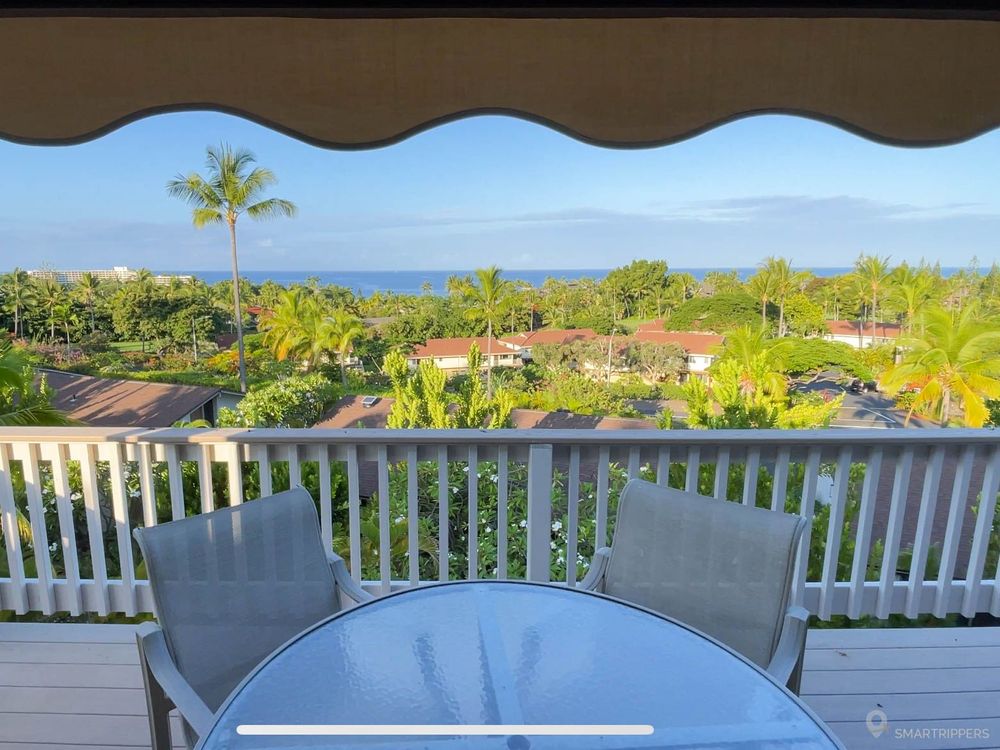 The advantage of a rental is that you will almost always have a small kitchen, or at least a fridge and a microwave. So you can cook at home and lower your budget (restaurants are very expensive in Hawaii). In most cases, a parking space is provided with the rental.
4

How much does it cost to eat in Hawaii?

Here's a factor not to be ignored: the cost of food is very expensive in Hawaii, which is mainly due to the fact that the archipelago is located in the middle of the Pacific and that the majority of food must be supplied by plane or boat.
Restaurants
You might as well know that if your budget is tight, you won't eat out often. The rates are high, knowing that it will be necessary to add between 15 and 20% of tip according to the quality of the service. Of course prices vary from simple to triple depending on the restaurant, so it is difficult to give an estimation here, but keep in mind that this is a budget that should not be underestimated.
To give you an idea, we made once a restaurant a little "chic" without being gastronomic, and we paid 80$ for 1 dish and a drink each! More generally, we had about $50 for two by being very reasonable and often taking only one dish with a drink.
But fortunately there are many small food trucks where it is possible to eat locally and for a fairly low price (on average $15-$20 meal) usually served in polystyrene trays...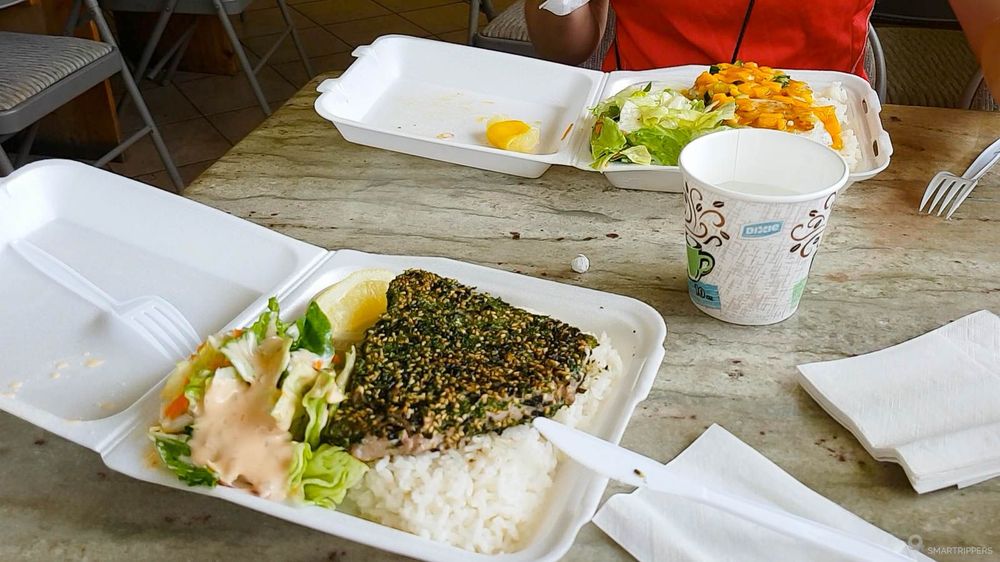 It is also possible to buy Ahi bowls (hot rice bowls covered with raw fish), a Hawaiian specialty for about $10 a bowl in supermarkets like Safeway, Big Save or Foodland.
Also expect an average of $5 to $8 for a Shave Ice, the must-have Hawaiian flavoured crushed ice.
At the market and supermarket
If you want to travel cheap in Hawaii, we recommend shopping in markets and supermarkets. The market option is the first choice for eating good local products whose prices will be much cheaper than in supermarkets. These markets are called farmers markets because local producers come here to sell their fruit. Some are very popular like Hilo's farmers market on Big Island. Still, count $5 to $6 for a pineapple, that will give you an idea of the local prices... (the price of fruits has also doubled since 2019...)
In the supermarket the prices are higher than in the mainland. Some products are even overpriced there like milk, chip packs, cakes... basically all the products that can not be manufactured locally. You will need to completely review your diet if you want to stay within a decent budget.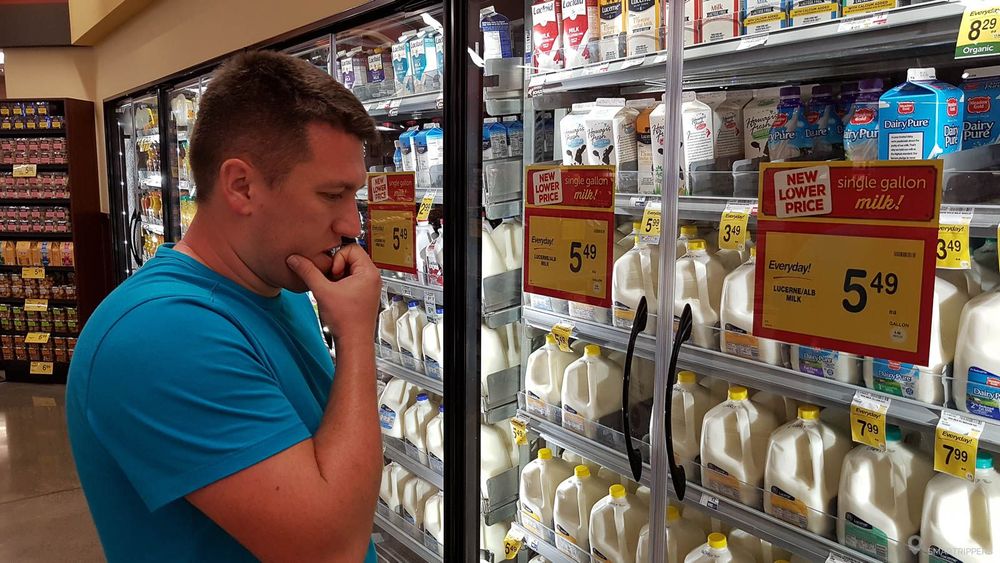 Finally we noticed that the prices in the supermarkets differed according to the islands, the Kauai island is the most expensive.
Our tips for saving money when you are shopping
Some stores have preferential rates for certain types of products: For example, we found a gallon of mineral water at $1.25 at Big Save Market, the same one was sold at $2.50 at Foodland and $3.5 at Safeway. Another example: the pineapples, at $0.89 per pound at Safeway and often much more expensive elsewhere. Sometimes we have even found huge discrepancies for some products, ranging from simple to double depending on the supermarket.
Take items that are about to expire. There is usually 30% to 50% on it.
5

How much does a car rental cost in Hawaii?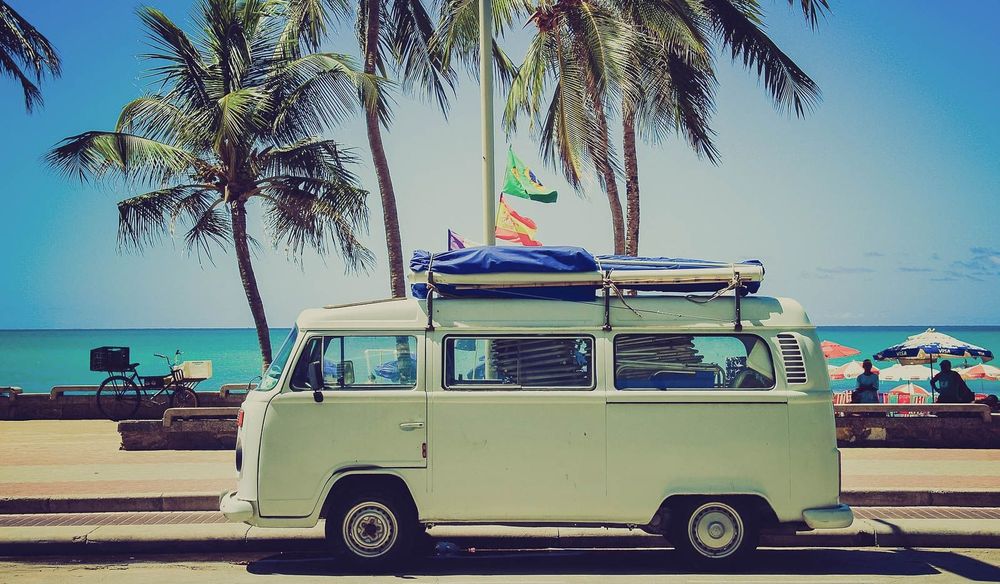 How much does a car rental in Hawaii cost?
Except on the island of Oahu where it is possible to use the bus network, we recommend you to rent a car to be able to move in the islands. For this you will have to go through a rental agency, which will directly increase your budget.
Rates start at $35-$50 per day excluding insurance for a small car during low season and increase according to the type of vehicle chosen, the season, the rental company or the Intermediary chosen. More generally, expect an average of $70-$90 a day to rent your car.
To try to find a cheap car rental in Hawaii, feel free to have a look at Discount Hawaii Car Rental, a broker founded by Hawaiians in 1999. Thanks to their local history, their prices are among the most competitive in the Hawaiian islands.
We also advise you to read
All our tips to save money on your car rental in Hawaii.
What's the price of gas in Hawaii?
Then you'll have to give your car something to drink. But again, expect to pay more for your fuel than on the mainland. To give you an idea, the price of gasoline is around $5 per gallon (October 2022 rate).
But fortunately, the islands are not very big (except Big Island), your fuel consumption will remain rather limited.
6

How much for leisure and activities in Hawaii?

It's hard to go to Hawaii without enjoying some activities in the islands. You may want to fly by helicopter, take a boat trip, attend a Luau or do one of the many sporting activities available in the Hawaiian Islands.

But having fun in Hawaii has a cost, because who says Hawaii, says expensive! So expect to pay a lot if you decide to let yourself be tempted by a little excursion or activity, and especially since the prices have sometimes doubled since 2019...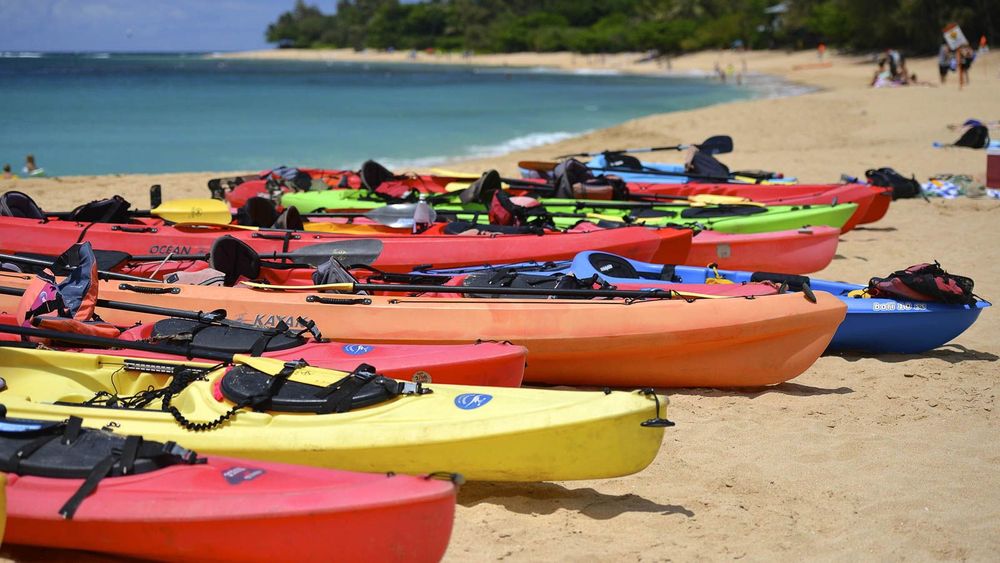 It is difficult to put the price list here as the number of activities and excursions is so important. But for your information, helicopter tours start at $350 ($170 if you prefer a small Cessna/Air Van). The price will be the same if you wish to approach by boat the lava flows flowing into the ocean. To see Manta rays it will be from 160$ and renting a kayak will cost you about 100$ per person per day. You will have understood that the bill will rise quickly, while not forgetting that gratuity is advised for supervised excursions.
Some ideas for excursions
Don't miss the unmissable flyover of Kauai. Whether by plane or helicopter, the island will reveal itself to you from the sky. Thrills guaranteed!
Whether you are a diver or a snorkeler, seeing the Manta rays near Kona will probably be one of your most memorable experience.
Let yourself be tempted by an excursion to meet dolphins in their natural environment along the coasts of Big Island by selecting a non-invasive company.
7

How much does it cost to visit Hawaii?

The Hawaiian Islands include a number of State Parks, County Parks and 3 National Parks. The advantage is that many State Parks and County Parks located in the archipelago are free, but the tendency in recent months is towards paid parking. More and more payment terminals are flourishing in the various State Park parking lots, generally at $15 per day ticket. As for the National Parks, they are not free and prices increased significantly in 2018 and 2020.

Nevertheless, we can understand the great efforts of daily maintenance, which explains the need to charge visitors for their services.
National Parks fare in Hawaii
Here are the rates for 2020.
Volcanoes NP: 30$, pass valid 7 days for 1 vehicle
Haleakala NP : 30$, pass valid for 3 days for 1 vehicle
Pu'uhonua o Honaunau Historical Park : 20$, pass valid 7 days for 1 vehicle
You can save money by buying the annual Hawaii Tri-park pass sold for $55 at each park entrance, which will give you unlimited access for 1 year to the 3 National Parks listed above. Note that the America the beautiful pass is accepted in Hawaii's National Parks and will be very useful if you combine the Hawaii visit with other mainland parks.
The price of the visits on Oahu
Oahu is the most expensive island for visits. Here are some of the prices:
Hanauma Bay State Park (Oahu): 25$ per person + $3$ for parking
Diamond Head State Monument (Oahu): $5 per person or $10 per car
Waimea Valley (Oahu): 25$ per adult / 12$ per child
Hawaii Tropical Bioreserve & Garden (Big Island): 25$ per adult / 12$ per child
Pearl Harbor: Access to the memorial is free, but admission to visits and museums ranges from $22 to $30. There are many passes, see our dedicated article: Pearl Harbor: everything to know to organize your visit
8

How much money do you need to go to Hawaii?

The price of your trip to Hawaii will depend on the length of your stay, the services, the activities and tours you choose. This is why it is difficult to give you an overall budget. But globally, I would say that the average budget for a 3-week trip for 2 people (accommodations, domestic flights, cars rental, meals and excursions), could be around $7,000 to $9,000, or $3,500 to $4,500/person, or $175/person/day, excluding flights to get to Hawaii.

You may consider that this budget will be higher if you plan to travel during the high season when the price of domestic flights, hotels and car rentals will be higher. You can also greatly reduce this average cost if you choose to camp and do your daily shopping at the market/supermarket.

We hope you found this article useful! Feel free to share your feedback in the comments.
Did Smartrippers help you? Do you know that you can thank us by making some of your reservations directly from our links (activities, hotels...)? This sometimes allows us to earn a small commission without changing the price for you. Don't forget that with Smartrippers everything is free, no advertising, no placement of links at the request of brands... Every little click makes us so happy! Thank you so much!
We are Sandrine and Flo, French thirty-somethings. In 2019 we quit everything to live our dream, become nomads and travel around the world. We left with our baby, Lena, who was only 5 months old at the time. After a first trip around the Pacific Ocean by plane and a long 3 months stay in Hawaii, we left to discover Iceland for 3 months on board our 4WD pickup truck and truck camper. Then we continued our adventure in North America.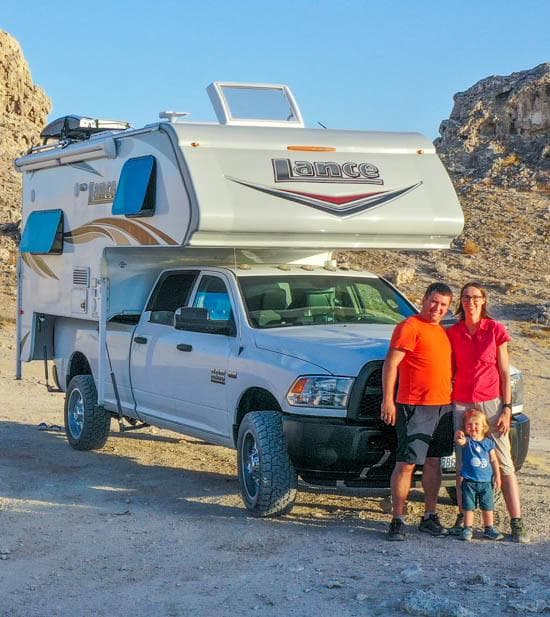 Today, if we can continue this adventure, it is above all thanks to our blog, Smartrippers! We created it one day in 2016, with the desire to share our good travel tips, without thinking that it would lead us there! We have developed it a lot over the years and have become experts on our 3 favorite destinations: Hawaii, Iceland and the American West. We now guide you to these destinations to help you plan the trip of your dreams!
Follow our adventures!