Budget: How much does a trip to Iceland cost?

Written by Sandrine
Published on 09/16/16
Iceland is reputed to be an expensive country and its reputation is unfortunately equal to the reality, especially in high season. It is best to be well informed before planning your holiday in Iceland, to avoid unpleasant surprises. Here is the details of all the prices we have identified during our 21-day stay in 2016, which will allow you to get an idea of the sums to be expected. Please note that prices vary greatly between the high season and the rest of the year. The prices shown here are for July 2016 (high season).
1

The price to travel in Iceland
Airline tickets
Iceland is a relatively well-served country, so tickets can be found at very affordable or even very attractive prices. Several low cost airlines serve the island with aggressive pricing policies such as Easyjet and WOW air. By making arrangements in advance, or at the right time, it is possible to find tickets for sometimes less than €100 return ticket (excluding luggage).
For example, at the end of 2017 we were able to buy a round trip at 89€ with EasyJet from France to leave in February. Tickets were purchased only 2 months in advance. Tickets are even available for less than €50 return to some European cities..
More generally, it costs about 300-400€ for a round trip if you choose a regular airline, such as Icelandair. In our case, our tickets cost 350€ each from Paris for the month of July 2016 with Icelandair, bought 9 months in advance. The price indicated is for one person, 1 piece of luggage including hold baggage. However, prices may go up if you book late in the high season.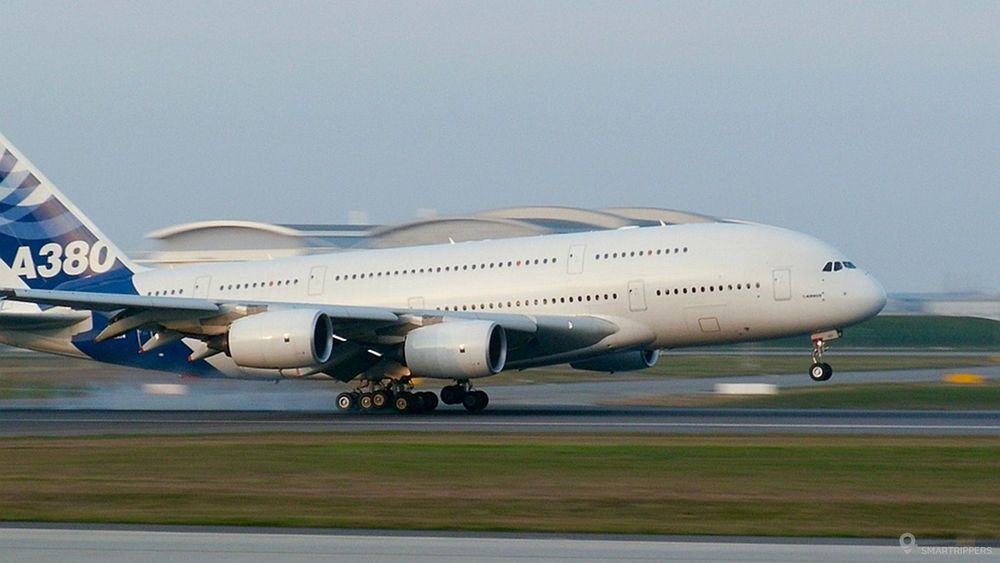 We advise you to book your plane tickets early if you are travelling in high season (July / August), as the crowds are high and prices will tend to rise. Over the rest of the year, beautiful last-minute opportunities are often offered.
The budget of a car rental in Iceland
This is where the bottom hurts, especially in high season! Car rental is usually the biggest expense of a trip to Iceland. Above all, avoid international rental agencies that will end up killing you with their prohibitive prices and give preference to small local companies. However, check the testimonials on forums before you launch.
We have selected Blue Car Rental, a serious Icelandic rental agency that we recommend. Their prices are among the lowest on the island, and their cars are recent. All insurances are included in their prices, including the "gravel protection" that we highly recommend.
To rent a small city car
On the price side, we paid 600€ for 8 days in Clio during the month of July at Blue Car Rental. More generally, count on average 70€ to 100€ per day of renting in high season.
In the low season, between mid-September and the beginning of June, prices drop drastically, and are generally divided by three in the middle of winter.
Note that a small city car will do perfectly well if you don't take the F track. Even if some portions are unpaved, and therefore covered with earth and small gravel, this does not justify the use of an SUV or 4x4, except in winter, in case of snow. Some roads have potholes, especially in the western fjords, but there's nothing impossible with a small car, unless you want more space or comfort. However, the price will no longer be the same.
To rent a 4x4
If you want to take the inside tracks (F roads), a 4x4 will be mandatory. If you don't plan to take tracks with big fords, a SUV will be enough. For the other cases, we recommend a 4x4, at least a Dacia Duster that seems like a good compromise for easy trails. If you want to attack more complex tracks like the F210 for example, you will need a bigger model. Of course, the price increases according to the size of the vehicle, see explosion for big models such as Toyota Land Cruiser or Toyota Hilux.
On the price side, Blue Car Rental proposes a Dacia Duster at 1700€ for 12 days in high season. But since we needed a bigger model, we had selected a Jeep Grand Cherokee from Ice Car Rental (which we were very unhappy with and we don't recommend). We paid 1650€ for 12 days (2008 model) in July. In the end, we had an old Durango Dodge instead (20L/100km, a financial pit!).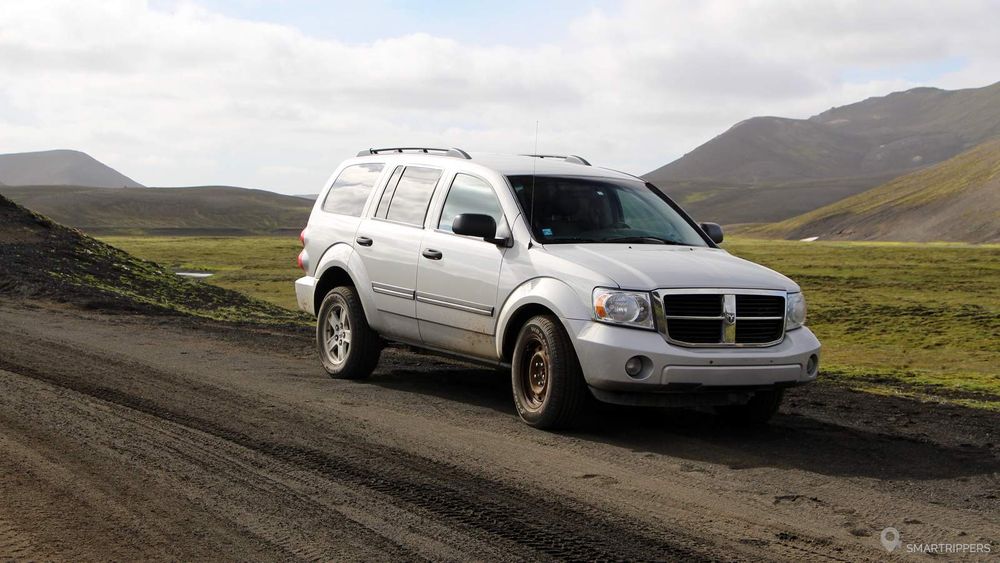 So, on average, you can rent a 4x4 between 130€ and 200€ per day, depending on the size, in summer. Don't forget to add the "Gravel protection" if it is not included automatically. Even for prices in low season, the score is generally much less salty, even divided by three.
Gasoline prices in Iceland
As with the rest, gasoline is also more expensive than elsewhere. Count on average 180 ISK for 1 litre of diesel, i. e. 1.40€/L and 200 ISK for 1 litre of petrol (Unleaded), i. e. 1.55€/L (July 2016 prices).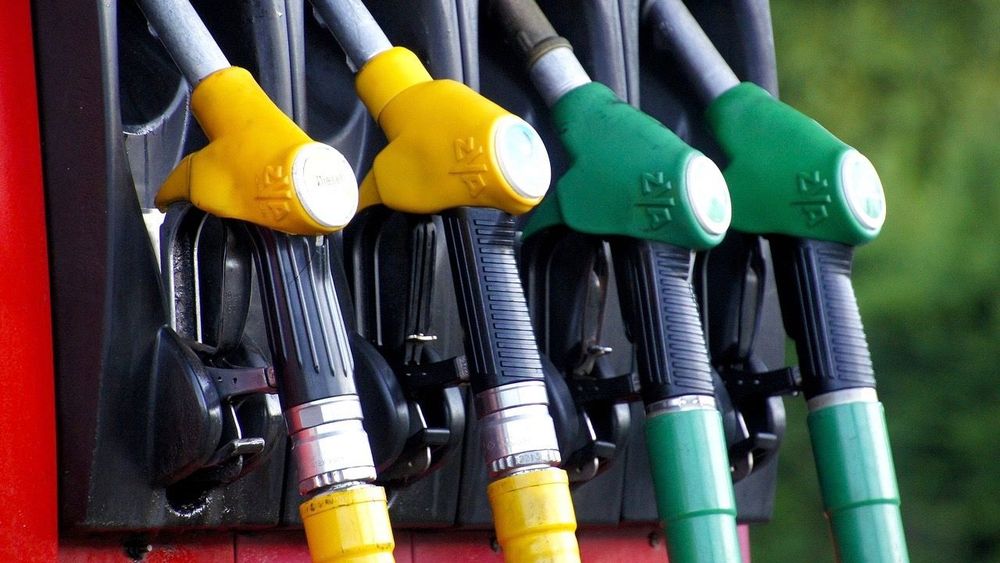 Even if Iceland is not a very large island, you will probably drive a lot. During our 3 weeks, we covered a total of 6,000 km, or 2,000 km per week. Your car's fuel consumption will therefore have a major impact on your budget.
To give you an idea, we consumed 180L for 3000 km with the Clio (gasoline), or 280€. And the Dodge Durango (gasoline) was a real financial pitfall with an average consumption of 20L/100km. So we consumed 600L for 3000 km, a total of 930€ just for him. Yeah, yeah, it stings!!
We therefore recommend that you choose a recent 4x4 model because the price saved on the rental of a more rustic 4x4 will be swallowed up in its fuel consumption.
2

The budget for food and accomodation
Accommodation
The number of accommodations being rather limited in Iceland, you will have quickly understood that the prices will not be in your favor. That's why a majority of travellers choose the campsite in summer, an alternative for a trip at reasonable price and above all without constraint of having to enlist accommodation in the evening.
In a room
In high season, housing is taken over. Be sure to reserve them months in advance (at least 6 months to 1 year) to have a choice. Some places sometimes have only one or two guest houses and accommodations at reduced prices are quite rare. If you arrive too late, you will have no choice but to put your hand in the pocket or move away from your favourite spot.
In the big cities (more than 5000 inhabitants) there are many hotels. In Reykjavik, we stayed 4 nights (offered) at the Grand Hotel Reykjavik (4 stars). Spacious room, copious breakfast, for 160€ per night in a double room, breakfast included, booked 9 months in advance by our agency on a discount website that has gone bankrupt since... But generally this type of service is much more expensive!
It is nevertheless possible to find more affordable prices in gite, youth hostel or via Airbnb. Count 120€ to 160€ on average per night for 2 people in a private room in a guesthouse, and 25€ to 50€ for 1 single bed in a dormitory in a youth hostel. On Airbnb, it is possible to make good deals with rooms in the 40-80€. But beware, as prices can skyrocket at the last minute in July and August. It is not uncommon to find the last remaining rooms at more than 300€ per night (and generally for a basic comfort).
Also be careful with taxes, and check if they are included in the posted price..
Many establishments offer sleepings bags accomodations. That is to say that you have a room with 2 beds but without the sheets. You must bring your down. Bathrooms are often shared. In some small towns, schools may be converted into gites during the high season. At the time of my first reservation in 2010, I had only selected sleeping bags accommodations, for an average budget of 80€ per night in double room.
Out of season, prices go down and become more reasonable.

Campsites
The prices for camping are also very high and vary from place to place. For 2 people and a tent, we paid between ISK 2200 and ISK 3500, i. e. between 17€ and 27€ a night. On average we were closer to the ISK 3200, i. e. 25€ per night for 2 people with a shower that we shared at 2.
We have seen a lot of disparities in equipment. Some campsites have unlimited hot showers included in the price, while others generally add 500 to 600 ISK, or about 4€ for 5 minutes of hot water. It's the same principle for cooking. Some are equipped with superb fitted kitchens whose access is included in the price, while for others there is no kitchen or you have to pay for access.
Be aware that it is tolerated to go camping in Iceland, but as everywhere, there are certain rules to follow.
It is not permitted to camp outside of nature parks or on private property. We spent about one out of every 2 nights in the car, the simplest solution because finding a flat and grassy terrain is a rare thing in Iceland. Finally, know that there are relatively few roads on the territory, and therefore few isolated and accessible corners at the same time. There are evenings where we drove for more than an hour to find a quiet area to park the car.
Camping seems to us to be the best option to benefit from a maximum of flexibility, the weather is often capricious in Iceland. If you can afford it, we recommend renting a camper or a pick-up truck with a cabin. Your nights will be more relaxing and less stressful (especially because of the weather).
Feeding in Iceland
Feeding will have been the biggest constraint on our journey. Not that it is difficult to find food in Iceland, but rather that the price of food is like everything else: very expensive. With a small budget of 600€ to cover all the meals of our trip (for both of us), we had to tighten our belt! If you can, pack a minimum of dehydrated food in your luggage, it will probably save you the same thing every day, for lack of means.
Supermarkets
In Iceland, there are supermarkets everywhere. It's rather good news, especially when you think of arriving in a big city, given the size of the name on the map, and that in the end, there are only a dozen inhabitants! You will always find a small supermarket even in the villages, whether it is a single store or a petrol station with a small shop. In larger cities (500 inhabitants is already a lot!) there are usually big food stores like Bonus or Kronan. Usually you will find everything there, except in really lost places where the choice will be more limited.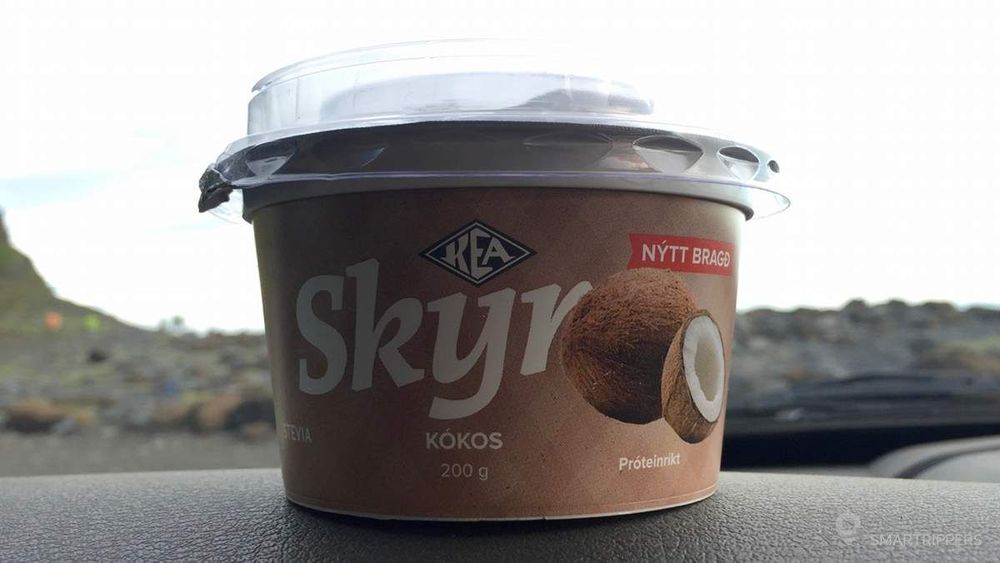 The price of food is generally higher than at home, especially for some products that are overpriced. Some fruits and vegetables can be found at a reasonable price, as well as basic condiments, classic sauces, some cold meats (sausages or chicken slices), drinks, bread and pastries. If you like cheese, you'll be disappointed because apart from cheese spreads and sheep's milk cheese, the rest is horribly expensive. Count in the 700 ISK / 5,40€ 6 slices of cheese. Meat excluding delicatessen is also very expensive, just like fish.
Good news, though, in this rather bleak picture. If you like dairy products, you'll be delighted with Skyr, the traditional Icelandic yoghurt. You can find all tastes and textures, some of them with toppings (it changes). And for once the price is accessible (150 ISK / 1,15€ on average for a big yoghurt).
Two tricks:Bottled water is rather expensive while water in Iceland is excellent (there are many sources). Instead, reuse old bottles and refill them with tap water.This will be much more convenient and economical than buying 10 rolls at 15€!
Fast food service
Generally, we avoid fast food because we prefer a healthy diet, but in Iceland, we couldn't escape it. It was even our spare when we didn't want to cook (especially when it was bad weather).
And the good news is that Icelanders are fond of hot dogs and burgers, so you can find them everywhere, for all tastes. There are even many burger restaurants in town and it's quite good! Yeah, good! Nothing comparable to the menus found at Mac Donald's (there are none in Iceland and we know why!). Icelandic burgers are almost always served on a plate with French fries (even at KCF). So we eat at the table with cutlery. Then, they are real chopped steaks so you gain in taste and it changes everything.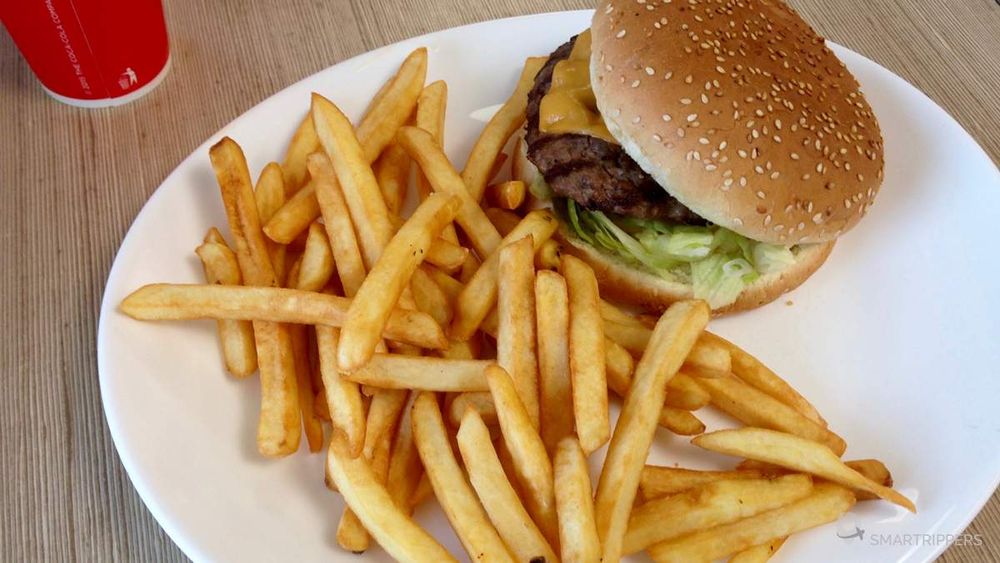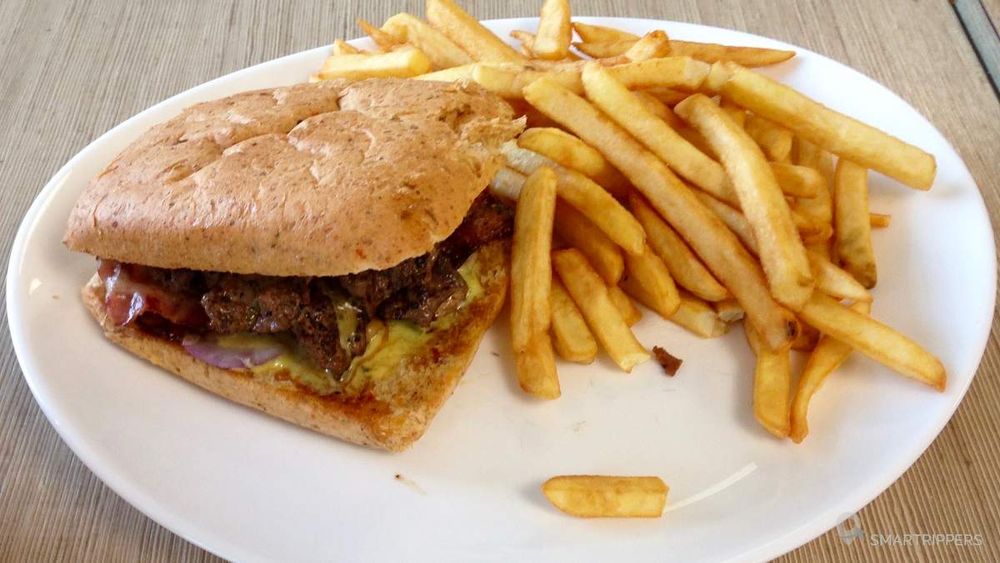 The majority of service stations have a cafeteria, at N1 in particular (except in the western fjords where we haven't seen too many). The burger menu costs between ISK 1300 and ISK 2000 / 10€ and 15€. It includes the burger/fry plate and often a drink. It's a good alternative when you want to eat for not too much in the heat.
For faster and more economical breaks, you can opt for the traditional packaged sandwich or hot dog that we recommend. Ideal because inexpensive and nutritious. It helps in all situations and we find it everywhere! In most petrol stations, you will find a small hot dog place. You can choose with or without onions and then add the sauces you want. Price of a hot dog: between ISK 350 and 400 or 2,80€ on average.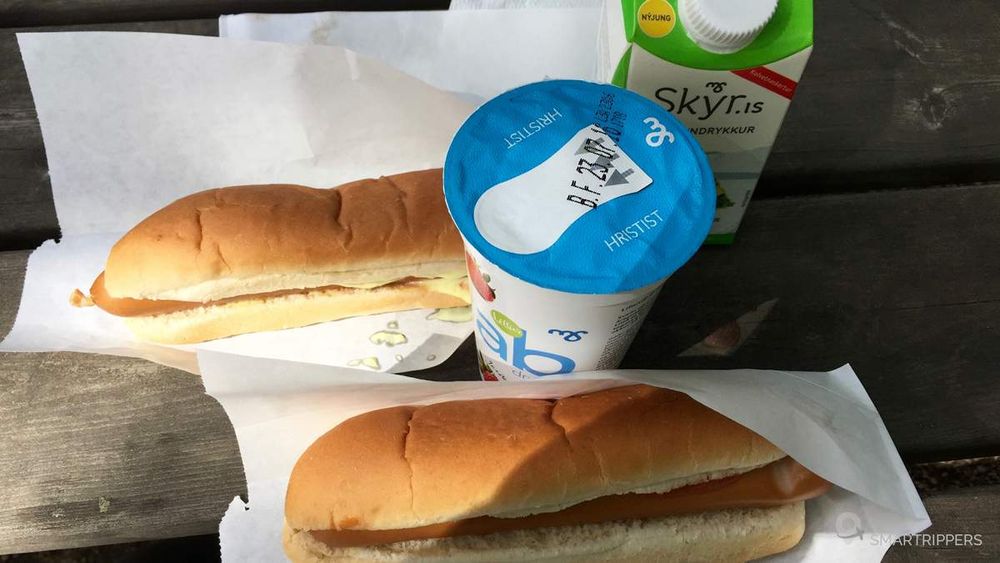 Icelanders are also very fond of ice cream. They are often found, especially in large service stations. On the other hand, they are still quite expensive.
Prices in restaurants
For the big hungry or for a more comfortable lunch break, you can opt for the restaurant. But beware, plan to empty the wallet. Prices vary greatly from one restaurant to another, but on average, aim for ISK 5,000 / 38€ for a complete menu in a "classic" restaurant with starter, main course, dessert (excluding burger). If you opt for brasserie type dishes (burger / fishs & chips...) with a minimalist service, count in the 2 500 ISK / 20€ a meal.
For example, we had lunch at a fish restaurant in Reykjavik, the Saegreifinn - The Sea Baron.. They make excellent skewers and lobster soup. The service is basic: you order at the cashier's desk and then set up yourself on picnic tables. Invoice for 2 lobster soups and 2 salmon skewers without topping or drink: 6400 ISK for 2, i. e. 3200 ISK / 25€ per meal.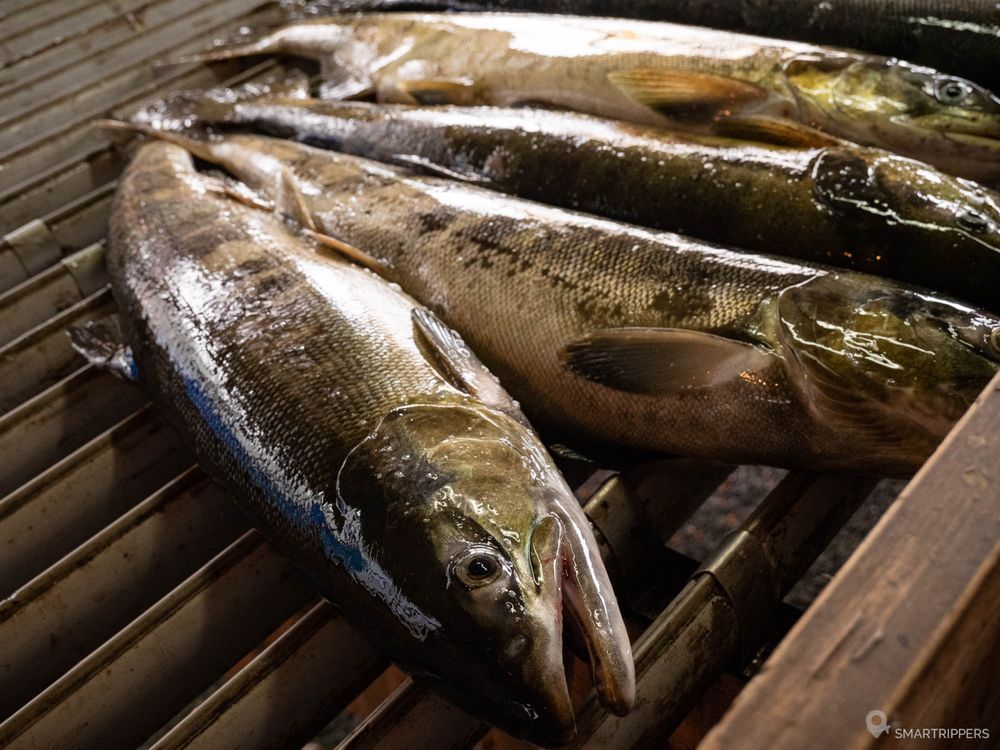 3

Equipment and leisure rates
Getting equipped before traveling in Iceland
If there is one budget item not to be forgotten for Iceland, it is of course the equipment!
Clothes
Make sure you have a light, windproof, waterproof jacket with a waterproof membrane. The weather is very difficult to predict and sometimes deplorable, so it is better to be well equipped at the risk of regretting your trip. If you are not already equipped, you will have to invest in a good windbreaker. Prices vary greatly depending on the brand and the technicality of the garment. Count from 60€ for an entry-level model to well over 300€ for a very good model.
The same for the overpants, which I think are indispensable. It is possible to find some in the big sports shops in the 15€ to 50€.
I pass to the list of the rest of the suitcase, which is nothing exceptional.
Camping equipment
If you don't already have the equipment, you'll have to plan for a big budget, which should be taken into account in the final bill.
For meals, it is recommended that you bring your stove (without the bottle) in your suitcase. On site, it will be easy for you to buy bottles. For that, go to the petrol stations, preferably outside Reykjavik (because more expensive). They often have a small stock of cylinders, including Campingaz. With Coleman, these are the brands we have seen the most. The big bottles cost in the 1900 ISK to 2 300 ISK (15€ to 18€), a little less for the small ones.
It is not uncommon for campers to leave their gas bottles at the campsite before leaving. But be quick, because they leave quickly!
Leisure activities
Swimming pools
Ideal for bathing or relaxing, swimming pools are widespread in Iceland. You will find them in almost every city. Count between ISK 400 and ISK 700 / 3€ and 5€50 per ticket. They are generally well designed and modern, with small hot baths (36 - 42°C).
The Vestmann Islands Ferry
For once, an exception to this rule is that the price of a ferry to the Vestmann Islands is not at all expensive! The one-way fare is 1300 ISK per person, and 2600 ISK for the round trip (without car), i. e. 20€ per round trip for 45 minutes of crossing. On the other hand, it is much more expensive to get to the western fjords.
4

The final bill: Total budget for our 21-day trip

.Overall, our stay will have cost us a total of 4918€ for 2 adults, all inclusive.

Airplane: 350€ x 2 = 700€.Car rental: 600€ (Clio) " 1650€ (4x4) : 2 250€Food (very economical shopping, fast food about 1 time every 2 days " 2 restaurants) : 655€Gasoline for 6000 km (our 4x4 consumed a lot) : 985€Camping (howers and swimming pools included, knowing that we slept 1 night / 2 in the car off-site and 4 nights at the hotel in Reykjavik which were offered): 209€Leisure (ferry for the Vestmann Islands, Thingvellir car park, Kerid crater and the Eldheimar Museum in Heimaey): 85€Miscellaneous (gaz, tunnel): 35€
We are Sandrine and Flo, French thirty-somethings. In 2019 we quit everything to live our dream, become nomads and travel around the world. We left with our baby, Lena, who was only 5 months old at the time. After a first trip around the Pacific Ocean by plane and a long 3 months stay in Hawaii, we left to discover Iceland for 3 months on board our 4WD pickup truck and truck camper. Then we continued our adventure in North America.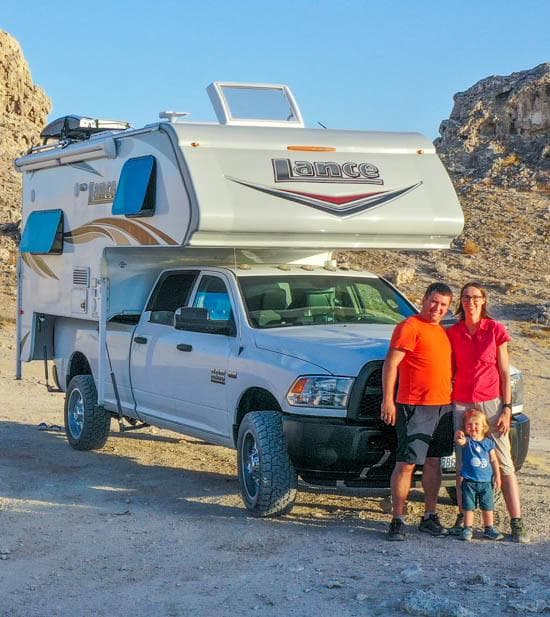 Today, if we can continue this adventure, it is above all thanks to our blog, Smartrippers! We created it one day in 2016, with the desire to share our good travel tips, without thinking that it would lead us there! We have developed it a lot over the years and have become experts on our 3 favorite destinations: Hawaii, Iceland and the American West. We now guide you to these destinations to help you plan the trip of your dreams!
Follow our adventures!