Driving in Iceland in winter: the guide to driving on frozen and snow-covered roads

Written by Sandrine
Updated on 05/03/22
You are planning to go to Iceland this winter and you are certainly wondering how the roads will be? Will they be clear, icy, snowy or even dreadful? To answer this question, nothing is more practical than a demonstration in pictures, with some tips on how to get to grips with Icelandic roads.
Iceland is an island with a changing climate. Expect a varied and turbulent weather that may affect your traffic on the island. In winter, temperatures fluctuate around 0°C, which has the main consequence of constantly freezing and defrosting roads.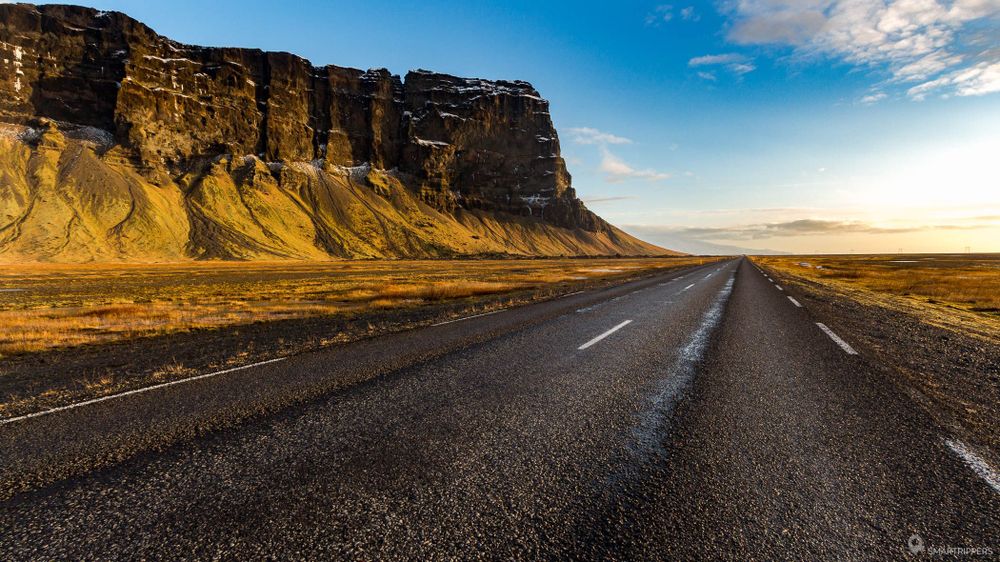 As you understand, expect to have ice. To complete the picture, the snow will probably tickle the asphalt and the wind will not hesitate to invite itself as well. All this forms a cocktail that seems explosive! But I can reassure you, the Icelanders are very well prepared and equipped to face the assaults and whims of the weather.
1

The different types of roads you may encounter in Iceland during the winter

During the 6 days we spent in winter, we faced very different traffic conditions. I think we've had almost every possible case! I therefore propose that you review them, each with the color codes and pictograms indicated on the Icelandic traffic conditions website: www.road.is.

Here is an example of a map proposed by the road.is website and the different captions of the map.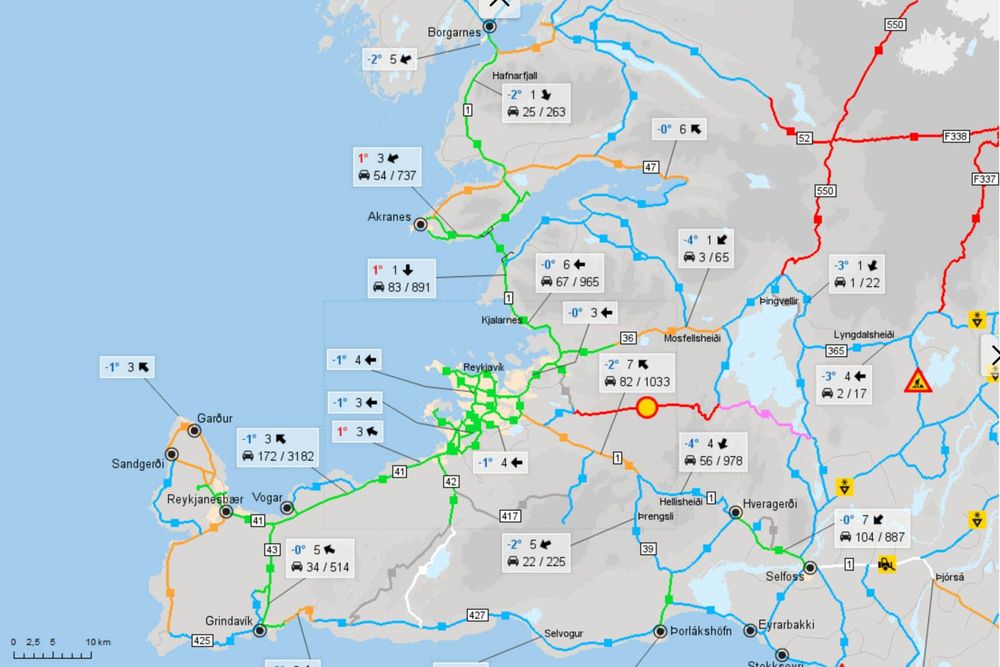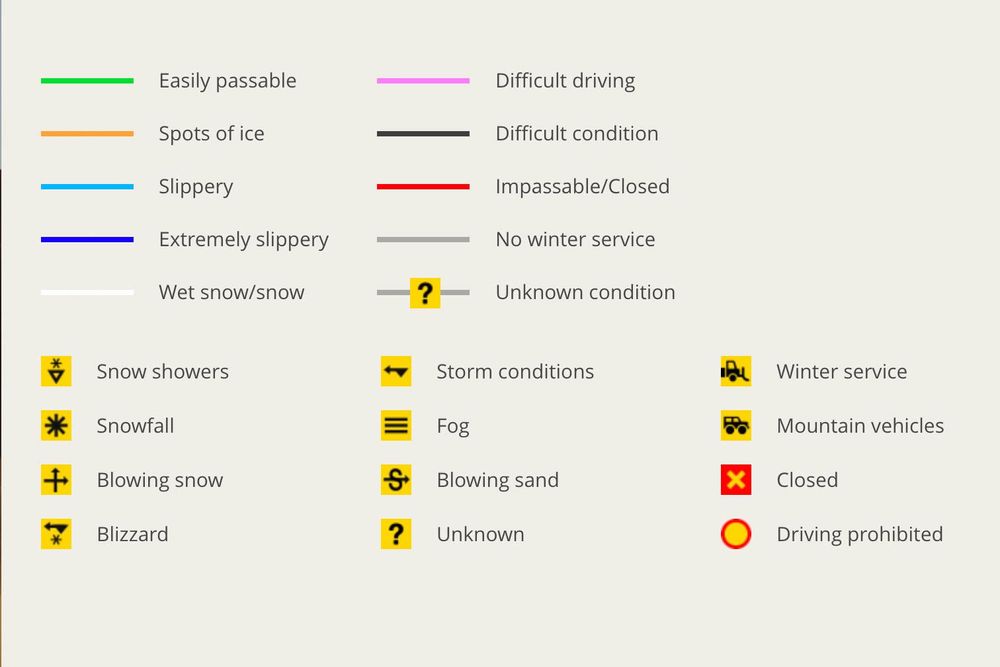 Clear roads
Let's start with the best. If the weather has been dry for several days or if the rain is light, it is very likely that the roads will be clear and clean. Besides, it happens quite often! It should be remembered that road maintenance services are mobilized on a daily basis to provide the best possible network. With good weather, you will have every chance of having a beautiful road.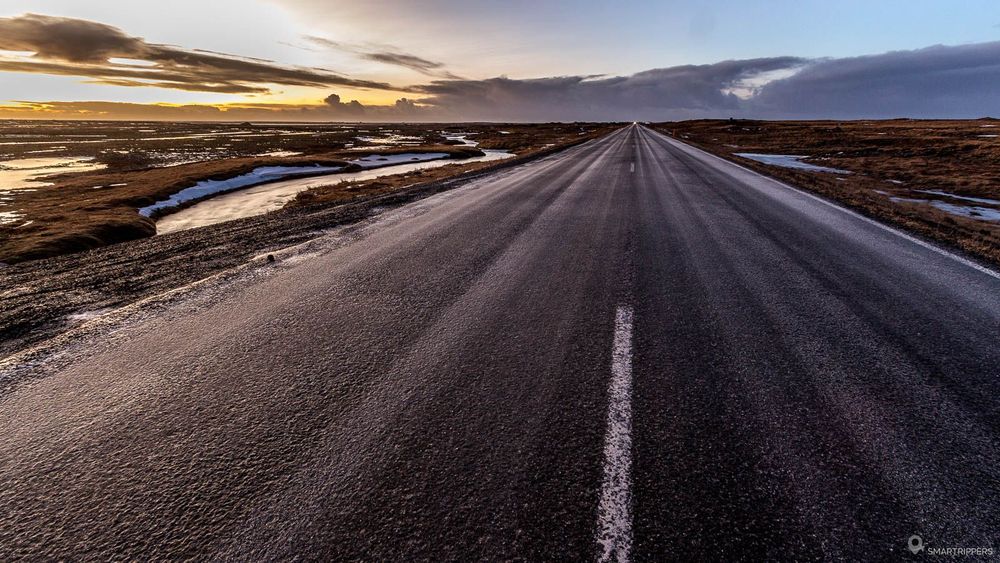 Clear roads are shown in green. They have no difficulty.
However, it is possible that the wind may come into play. Storms are frequent and weather reports can be issued by the local weather forecast (available on en.vedur.is, also to be put in favorites). We also experienced 2 episodes of strong winds, with yellow alertness, then a second orange one with winds up to 110 km/h or 30 m/s..
This does not change the road condition, but you should expect strong winds, characterized by the appearance of the "Storm conditions" pictogram on the map. The wind speed is also always indicated next to the temperature on the map. The first number indicates the average wind and the second number indicates the gusts.
The measurements are always indicated in meters per second, so it will be necessary to multiply them by 3.6 to get the correspondence in km/h.
On the road, you will see illuminated signs that will regularly show you the temperature, wind direction and wind speed for different destinations.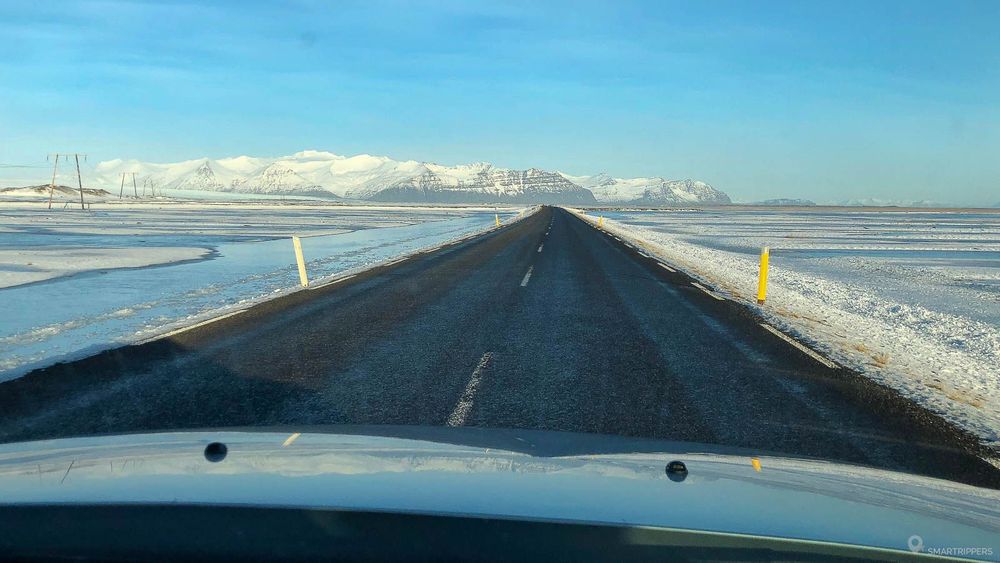 Snow-covered roads
If the weather is snowy, roads will quickly cover with a white film that can quickly reach several centimeters if there is heavy rainfall. But don't worry, remember that your vehicle will have tires suitable for driving on snow.
Snow-covered roads appear in white on the map. If snow falls are in progress, the "Snowfall" or "Snow showers" pictogram will be displayed.
Driving on a snow-covered road may seem scary, but finally the fresh, packed snow keeps the grip. A reduction in speed will be necessary in areas exposed to wind or curves (especially roundabouts), but overall we were able to drive at normal speed on "white" roads.
It should be noted that if it snows a lot and the snow does not have the time or the possibility to compact, the road will be difficult to drive except for 4WD vehicles. In this case, the color of the roads changes to pink. Be careful and we do not engage you if your vehicle is not adapted, at the risk of getting stuck in fresh or soft snow.
If the wind is blowing, "Blowing snow" pictogram, you will have to be extra careful because snow drifts may surprise you, especially on the lower sides of the road. The wind will also sweep away the snow from the road forming snow nets on the ground. This is more impressive than slippery.
The main danger we have encountered are snowplows because they throw snow, and combined with the wind, this forms an opaque cloud that can change direction and suddenly come to envelop you if you follow, pass or cross a machine. If snow removal is in progress, the "Winter service/Opening of road for traffic" logo may appear, but this is not always the case.
In this case, it is better to keep a good safety distance from the snowplow if you follow it. As for the overtaking of gear, we have not seen a ban, and have noticed several Icelanders doing so. If you have to pass a snowplow, be very careful with the direction of the wind so you don't suddenly find yourself in an opaque snow cloud.
If you encounter a snowplow coming in the opposite direction, also pay attention to the wind direction. If it throws snow at you, it is wiser to stop or significantly reduce your speed and wait for the machine to pass you.
If weather conditions deteriorate and a snowstorm is forecast with a "blizzard" logo, it is best not to take the road, as strong winds can cause very difficult conditions. It's better not to tempt the devil. It should be noted that we had strong winds with which we were able to ride, but never a blizzard.
Slippery or icy roads
Ice quickly settles on the roads and usually gets stronger at night. Worse, if it rained, the roads can turn into real ice rinks! But the first reassuring thing is that almost all rental vehicles and more generally vehicles circulating in Iceland during winter are equipped with studded tires. The small nails will therefore be a precious help in preventing you from slipping on the ice spots.
We tested our 4x4, a Dacia Duster equipped with studded tires, on ice surfaces that were very common in car parks, and the grip was relatively good, to our great surprise. However, the braking distance will be much longer. So the main advice in case of ice or icy roads is to keep your safety distance.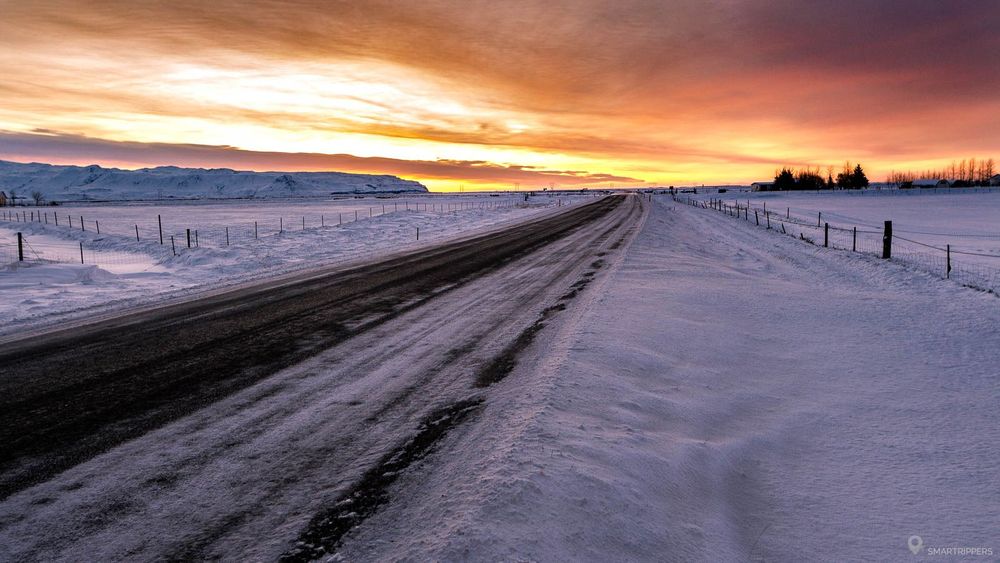 During our 2000 km on the roads in winter we only have witnessed one accident at the entrance of a single-lane bridge, caused by a vehicle that could not stop in time and hit the vehicle in front (without any severity).
On the map, icy roads can be indicated in several colors:
Orange, "Spots of ice", indicating that less than -20% of the road has potentially slippery surfaces.Sky blue, "Slippery", with more than 20% of the surface covered with packed snow packs or a few patches of ice.Dark blue, "Extremely slippery", where more than 20% of the road has large spots of ice or melted snow/ice that has subsequently frozen.
In the first two cases, they are generally small spots of residual ice. It is therefore necessary to be vigilant to locate them and take the curves with a reduced speed, especially in the roundabouts. On the straight lines we were able to drive at normal speed.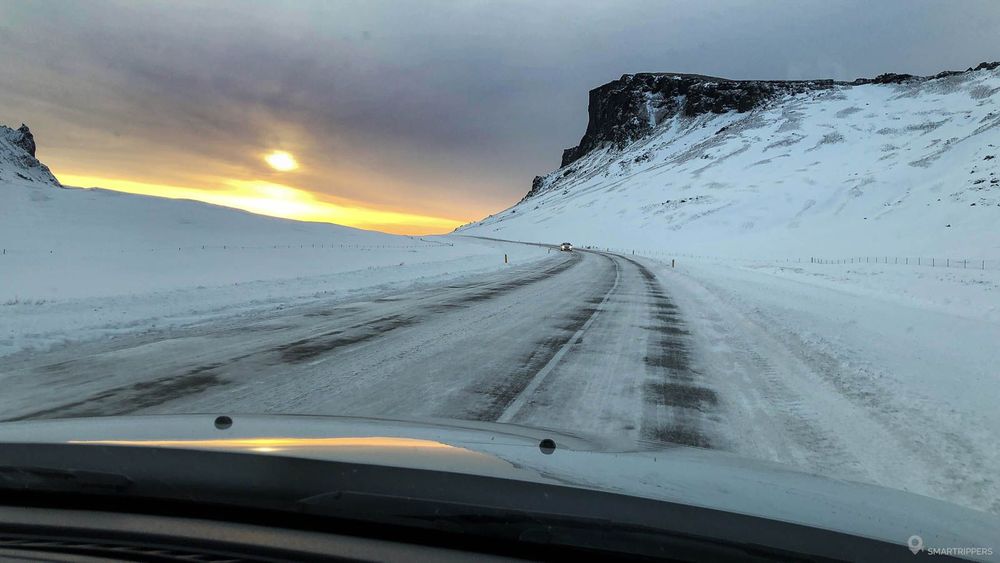 If the road is indicated as "very slippery / Extremely slippery", this may be due either to the presence of ice on the entire roadway (often the case in residential areas or car parks). In the second case, this is one of the worst conditions.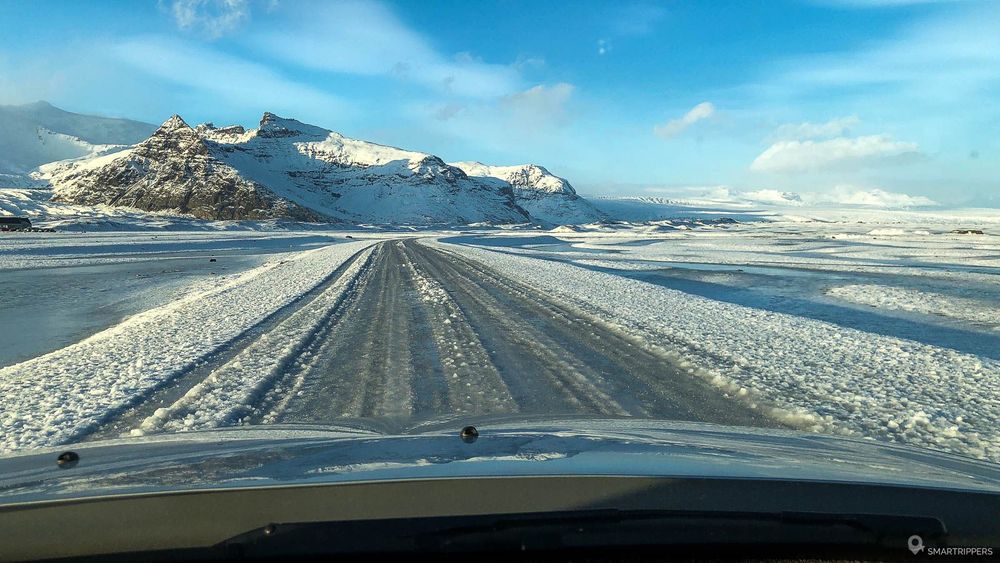 If you have to use a road or a completely icy car park, skating rink style, drive slowly. Again, we did not observe any grip problems with a smooth ride. At no time did we skid thanks to the studded tires. However, be careful not to slip out of your vehicle (crampons will be very useful!).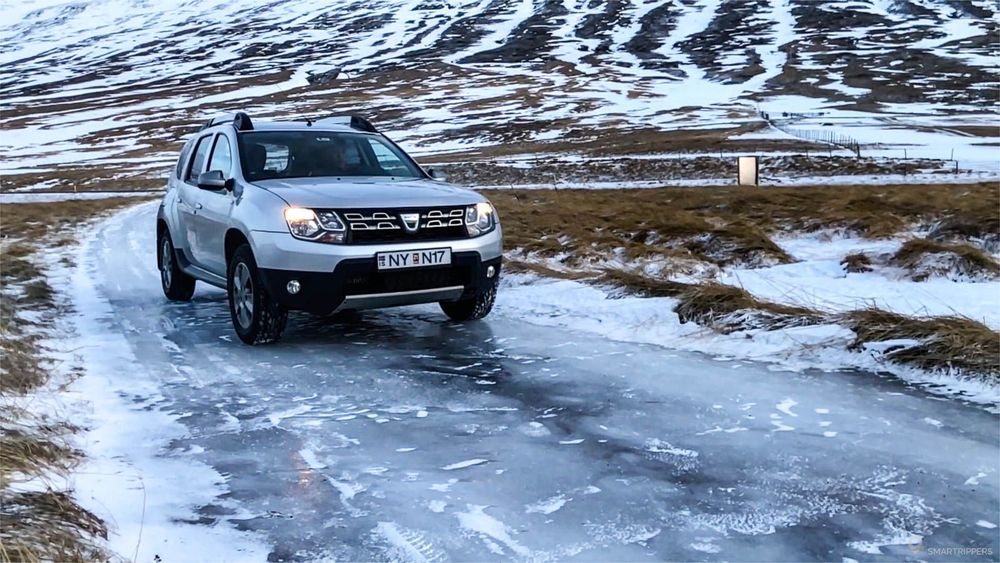 Snow or ice melted after a thaw
During our 6 days in Iceland, the snowmelt episode was the worst in the sense that the water froze the next day with the night's negative temperatures. If you observe this type of phenomenon with low temperatures while following, you should be wary of traffic conditions.
Faced with this situation, to prevent accidents, the authorities do not hesitate to close roads completely. I say more just below.
2

Our tips before taking the road in Iceland during the winter
Beware and anticipate road closures
Getting stuck and not being able to reach your next destination, or even miss your flight. This is probably the most feared thing when travelling to Iceland because a closure could compromise your program. This happened to us when we wanted to reach the Snaefellsness peninsula knowing that we were staying in Selfoss.
Early in the morning we find that all the more or less direct routes to Reykjavik are closed. We then call the switchboard at "354 522 1100 and the person tells us that the services are on site. Not knowing when the roads will reopen, she invites us to call back within the hour. In the end, only one road allowed us to reach Reykjavik, but with a detour of more than 1h30! So we waited. We then changed our plans, and fortunately because the road between Hveragerdi and Reykjavik did not reopen until 2pm!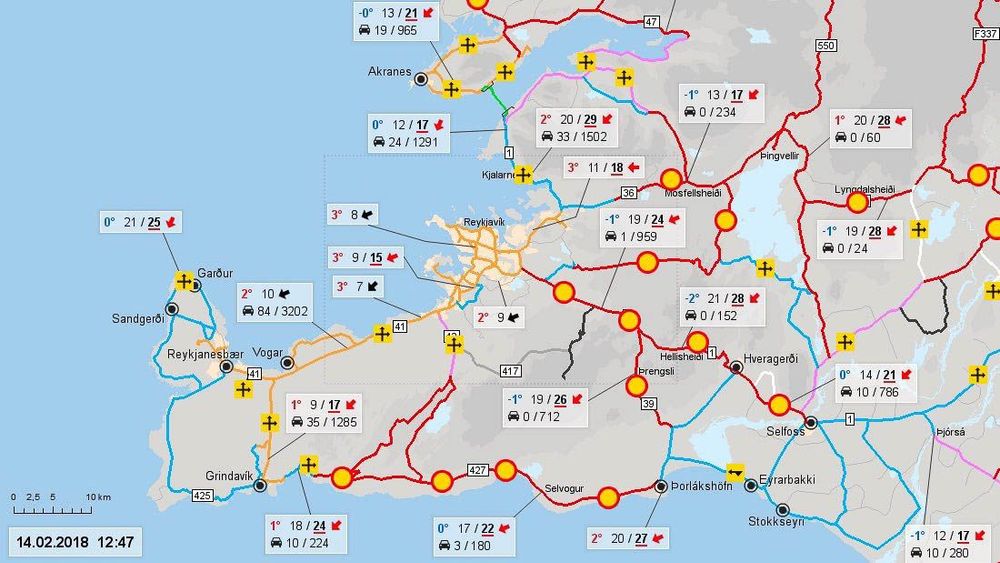 Nevertheless, we found that services ensure that they always keep at least one road open for traffic, where possible. That said, you should expect to make major detours, especially in the often closed portions between Hveragerdi / Thingvellir and Reykjavik, but also on the roads of the Snaefellness Peninsula, the eastern and western fjords.
If you have schedules to respect, find out in advance about traffic conditions and weather, and if they are not good, allow enough margin not to be late. It is strongly recommended to stay near the airport the day before your departure!
Follow traffic conditions in real time
What is reassuring is that there is a website that indicates traffic conditions in real time, all accompanied by accurate weather data and webcams scattered throughout the island. It is www.road.is, which we have talked about throughout this article and which is managed by the Icelandic road and coastal administration.
Every morning, take a few minutes to check the traffic conditions, which are indicated by several colors and pictograms. These change during the day, so don't hesitate to come back regularly to check the feasibility and openness of the roads, especially if the weather gets worse. Thanks to the European Union, you can enjoy some data on your smartphone in Iceland, and the country is pretty well covered. Feel free to bookmark this website!
3

Our tips to rent your car in winter
What type of vehicle to rent in Iceland in winter?
We have visited many websites, forums or blogs that recommend renting a 4WD or SUV during the winter because of the snow. Quite honestly, it's a bit like the summer when we have the false impression that the 4WD is indispensable for driving in Iceland, which is not true.
As explained above, on the one hand, rental cars are usually equipped with studded snow tires to drive on snow and ice without any problems, and on the other hand, the roads are very quickly cleared, which means that you will only very rarely encounter roads completely covered with a heavy snow layer.
The use of a 4WD in winter is only useful when driving on a road with a deep layer of snow. But all the little-used secondary roads being closed to tourists in winter, you shouldn't have this kind of difficulty, unless you want to (we saw a couple stuck with their SUV in a heap of powder because they wanted to play in the soft snow of a parking lot...). We also found ourselves in the early morning in a village with 10 cm of snow on the ground on the roads, but no problem with our studded snow tires (we were in 2 wheel drive).
Regarding SUV, it brings nothing more than a 2WD sedan, except that it is more spacious or offers a little more ground clearance, but the interior tracks being closed it has no interest in winter.
In a nutshell, choose the vehicle for winter that meets your needs in terms of space and comfort. If you travel as a couple, a small city car will do the job. With the family, a Duster may be the good compromise to have a little more space in the back-seat. However, make sure that the vehicle you are renting has studded winter tires.
More generally, here is the list of points to check when renting a car in Iceland:
Studded snow tires: mandatory in winter.
Insurance included or the supplement to purchase. GP (Gravel Protection) insurance seems essential to us if you have to drive on gravel roads (you will find a good number of them in the eastern or western fjords and some parts in the south-east of the country, as well as on many small secondary roads). The concern is not your driving, but the other vehicles that you may encounter at high speed and that could throw rocks. Lastly, SAAP insurance covers you in the event of damage related to sand or ash which could occur mainly during the summer during storms near desert areas, particularly in the south of the island or in the highlands. Then, check the amount of deductibles that will still be payable in the event of damage despite the insurance policy.
The age and mileage of the vehicles. Many agencies in Iceland rent vehicles with several years and many kilometers on the odometer, in order to offer more competitive rates but beware of unpleasant surprises. Remember that an old vehicle will sometimes consume more than a new one and the price of gas in Iceland is a big budget!
Taxes included in the price. Icelandic taxes are 24%, so be careful that they are included in the displayed price.
You are now ready to face the roads of Iceland! And as surprising as it may seem, we have never been in difficulty, despite some unclear conditions. If you drive smoothly and gently, you should not have any particular difficulty. Roads are very well maintained and real-time information is very efficient.
We are Sandrine and Flo, French thirty-somethings. In 2019 we quit everything to live our dream, become nomads and travel around the world. We left with our baby, Lena, who was only 5 months old at the time. After a first trip around the Pacific Ocean by plane and a long 3 months stay in Hawaii, we left to discover Iceland for 3 months on board our 4WD pickup truck and truck camper. Then we continued our adventure in North America.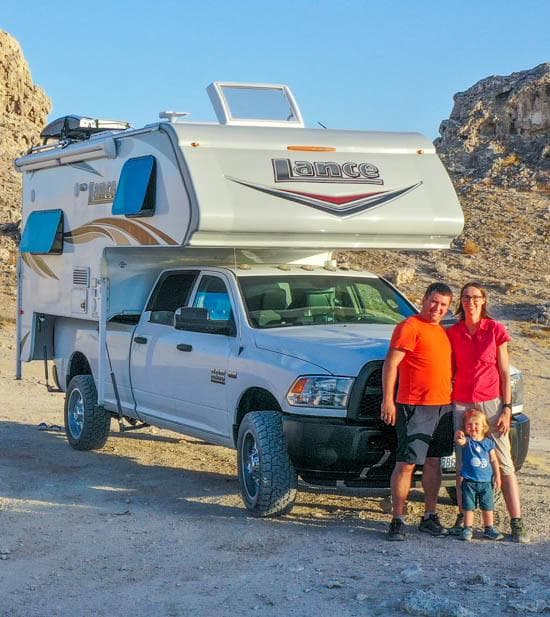 Today, if we can continue this adventure, it is above all thanks to our blog, Smartrippers! We created it one day in 2016, with the desire to share our good travel tips, without thinking that it would lead us there! We have developed it a lot over the years and have become experts on our 3 favorite destinations: Hawaii, Iceland and the American West. We now guide you to these destinations to help you plan the trip of your dreams!
Follow our adventures!